Applications Open for Zurich Science Writers Fellowship
June 13, 2016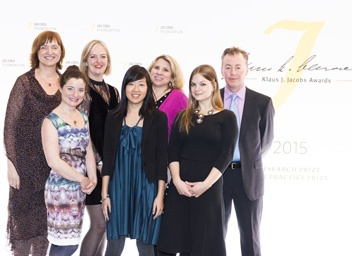 The Jacobs Foundation is now accepting applications for a five-day journalism fellowship aimed at advancing public understanding of research in the fields of psychology and youth development. The 2016 Science Writer Fellowship will bring five science and/or health policy reporters from North America and the United Kingdom to Zurich to collaborate with psychologists, researchers and journalists from premier Swiss research institutions and the Swiss Science Writers Association.
These fellows will also work closely with the 2016 Klaus J. Jacobs Research Prize recipient, a leading international scholar in the field of child and youth development, who will be announced in October, 2016. Click here to read about past prize recipients. 

The fellowship will take place November 29 - December 3, and will cover the costs for all meals, travel and accommodation.
ELIGIBILITY REQUIREMENTS
Must be a working journalist with a consistent track record of reporting on science and health policy issues, and a resident of North America or the United Kingdom.
Must have experience writing about youth development or provide explanation as to why he or she is particularly interested in this field.
Must have at least two years of employment as a staff journalist, or a proven track record as a freelancer in print, broadcast, or online media.
Applications accepted until August 21, 2016. Click here for more information and to apply now.