Awards for Exemplary Reporting on Violence Against Women
June 29, 2016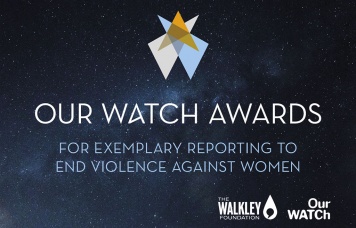 The Our Watch Awards recognise and reward exemplary reporting on violence against women, in particular reporting that focuses on the causes of violence and what can be done to prevent it. The Awards are open to all journalists and media organisations who have produced work in Australia between July 9, 2015 and the submission deadline, July 7, 2016.
"Time and time again, national and international research tells us that the public is heavily influenced by the way violence against women is portrayed in the media," said Mary Barry, Chief Executive Officer of Our Watch. "The Our Watch Awards, administered by the Walkley Foundation, acknowledge this level of influence. They are a chance to celebrate those journalists and outlets doing an exemplary job in reporting on violence against women and their children in Australia, and highlight best practice to others in the field."
The Our Watch Awards is an initiative under the National Plan to Reduce Violence Against Women and their Children and is funded by the Australian Government's Department of Social Services.
Entries should fall into one of the following categories:
Best Use of Social Media
All Media: Best News Coverage
All Media: Best Series of Special
All Media: Best Local/Community Journalism
All Media Best Longform
All Media: Best Journalism Campaign
The Our Watch Gold Award winner will be selected from the above categories
There is no entry fee.
Click here for more details and to submit your work.
And check out Our Watch this week's video featuring the Dart Centre Asia Pacific's Cait McMahon and other media experts on covering violence against women, the role of media organizations in protecting their journalists, and strategies for dealing with vicarious trauma, physical threats and online trolling. Click below to watch: