Online Harassment: Don't Starve the Trolls, Control Them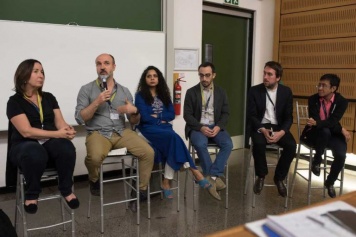 When Rana Ayyub's mother checks in with her, it's not just to say "Hi", it's also to check that her child is safe. On any given day Ayyub is the target of dozens of death or rape threats on social media – as her mother will tell her.
Ayyub, who is an Indian journalist and writer, says she won't stop her investigations, she won't stop tweeting either. But she doesn't take it lightly that online harassment is stifling freedom of the media and putting women journalists and minorities in particular, in grave danger.
There's been a growing call to push for a stronger response to fight online harassment from the media fraternity as well as a push-back against the social media companies to own the responsibility of making their platforms safer.
Elisa Muňoz, executive director of the International Women's Media Foundation, who moderated a session on Dealing with Online Harassment at which Ayyub was speaking, says responses need to acknowledge the emotional and psychological toll of online harassment, but also give journalists the tools and support to continue with their work.
"We know the scope and the impact of the harassment, what we need to be focusing on is our responses to that so journalists can get on with doing their jobs," she says.
For Ayyub, who's been targeted routinely for the past two years, it can't happen soon enough.
"Twitter may be putting up new safety measures and they may have new policies in place, but in practical life, what they're doing just isn't working. I can keep on reporting things to Twitter, but they refuse to act," Ayyub says.
It's been the same for Maria Ressa, CEO and Executive Editor of Rappler in the Philippines, who also shared the panel.
"If I'm getting 90 hate tweets in an hour, and I have to report all of those to Twitter then I'm wasting my time – why are we journalists doing the policing for Twitter and Facebook?"
Ressa says that she's spoken to 50 people at Facebook, including Mark Zuckerberg, imploring them to act against fake accounts and online harassment but nothing has changed.
"It means they are either negligent or complicit," says Ressa, who also says that Rappler's research showed that 26 fake Facebook accounts reached a staggering 30-million people.
And while Twitter, Facebook and others are playing catch-up, the damage is real.
Gavin Rees, director of Dart Centre Europe, says threats on Twitter are tenacious and they have the effect of shutting down people's responses.
"When you're confronted by the sheer volume of sewerage coming through your Twitter account it can start to make you feel isolated, undermined and intimidated," he says.
The barrage of negativity can become a self-perpetuating cycle of self doubt and self-criticism, Rees warns.
Jason Reich, director of global security at Buzzfeed, says that as an institution they've worked on preventative rather than reactive measures to combat online harassment.
"If you've being doxed then the genie is out of the bottle. But if we can protect that information it can help close gaps and help make journalists feel safer."
Reich says institutions may not impose on journalists about how they want to use social media, but they can help to create supportive infrastructure and to have safeguards in place.
"We even have a 'social media designated driver' who is someone who is part of a support system who takes over a targeted journalist's accounts temporarily to do all the necessary things like logging the hate tweets, taking screenshots and doing the reporting till the attacks die down," he says.
Nick Pickles, Twitter's Head of Public Policy and Government in the UK and Israel, says Twitter is proud that the social media platform is a tool that journalists use to take a stand against critical issues and are mindful of how it's also been used by bots and trolls.
"We haven't listened enough to what journalists need but we have upgraded our security features and we've built in more granularity for users," says Pickles, who outlined Twitter's updated rules around abuse and hateful conduct as well as violence and physical harm. The upgrades come into effect on December 18.
Advice to Fight Online Harassment
Take action that gives you back a sense of control and agency.
Limit your social media dosage.
Consider having different accounts for your private and personal use.
Build networks of solidarity and support. Editors, colleagues and friends need to allow the person being attacked the space to express their feelings and to give them appropriate support.
Check how you hold your anger – being angry is one thing, when it turns to hatred it's not good.
Deflate your enemy. It's not just a case of "not feeding the trolls" but controlling them, it's also about not feeding the obsession of being trolled.
Practise mindfulness. It's about bringing power back to your immediate present. It's also about self-care.
Search to see what information is publicly available about yourself with a browser that you don't often use. Knowing how public your personal information is will allow you to take appropriate measures.
Reach out to other journalists and institutions that offer help, advice and support.
This piece was originally published by the Global Investigative Journalists Network.