Dart Contributes to Rory Peck Trust's Ukraine Safety Project
May 23, 2018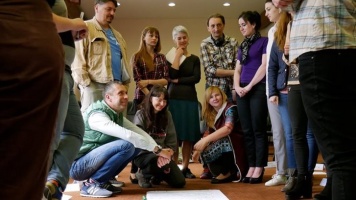 Freelance journalists and photographers from all corners of Ukraine came together in April 2018 for a five-day workshop in Kiev.
This was the second workshop in a two-year project to support independent journalism in Ukraine, funded by UNDEF and run by the Rory Peck Trust (RPT) in partnership with Ukraine's Institute of Mass Information (IMI).
 
On discovering last year that more than a third of Ukrainian freelance journalists endured physical assault or threats of physical violence since 2014 due to their journalism, RPT and IMI prepared a curriculum including elements on trauma, responsible journalism, risk assessment and digital security.
 
Seventeen freelancers attended the workshop, bringing with them collective experience of covering the Maidan protests, the eastern Ukraine conflict and the situation in Crimea.
Freelance photographer Alena Grom took part in the workshop and said: "It was an interesting and definitely a useful experience that will change my approach to security and behaviour in the ATO zone. It was nice to work and communicate with the best independent journalists in Ukraine."
 
Alongside Jana Javakhishvili, Angelina Fusco led the Trauma and Responsible Journalism session -- unique to Ukraine -- on behalf of Dart Centre Europe. Fusco commented afterwards: "As journalists we have a responsibility to look after ourselves, so we can do our jobs well. I feel really privileged to have met the freelancers who attended this workshop, who have worked under some of the most appalling circumstances."
What a delight for our team to spend five days with such an engaged group of freelancers in Ukraine for a workshop on trauma & responsible #journalism, risk assessment and digital security. Huge thanks to all who joined us! pic.twitter.com/7lqIUdNgZG

— Rory Peck Trust (@rorypecktrust) April 23, 2018
She added: "The world's attention is not on Ukraine anymore but they're still living with the conflict; they've been shelled, shot at, threatened. Anything we've been able to do – even as simple as a breathing exercise – if it can help reduce their stress so they can write their stories better or take photographs better, then that'll be a real achievement. I'm very proud to know them."
 
RPT's Programme Officer for Eurasia, Emine Ziyatdinova, said: "It is vitally important to focus on developing the specific skills needed among freelancers in Ukraine, where conflict has continued for more than four years. For local journalists, the conflict is often very personal – some have friends, relatives, or colleagues who affected by it in a very direct way. That's one of the reasons why resilience is so necessary among the country's freelancers."
As part of this project, the Rory Peck Trust will be launching a comprehensive set of online resources for Ukrainian journalists at a forum in Kiev at the beginning of September 2018.