Carter Center Releases Guide for Reporting on Behavioral Health
September 16, 2015
The Carter Center Mental Health Program today launched a media guide aimed at improving reporting on behavioral health, and decreasing discrimination and stereotypes within news coverage. The 12-page guide urges reporters to consider the relevance of mental illness and substance abuse before including those details in stories, to question the accuracy of diagnoses, and to confirm they are using appropriate language that does not perpetuate stereotypes or labeling: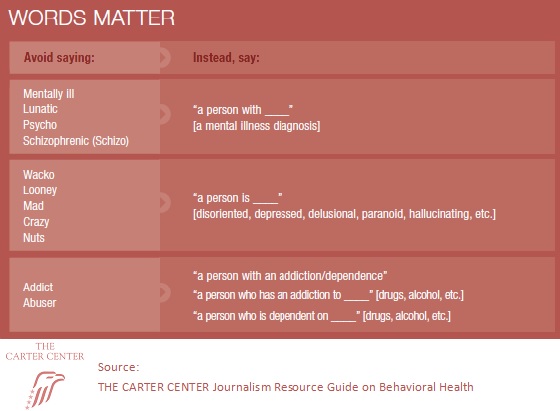 The guide also includes suggestions for solutions-oriented journalism, urging reporters to discuss prevention and early intervention, treatment options and highlight paths to recovery within their stories.
"This guide will enhance the ability of journalists covering stories that involve real or perceived mental health issues to report with accuracy, fairness, and sensitivity," said Dr. Thomas Bornemann, director of the Carter Center's Mental Health program in a press release. "Ultimately, we hope the guide also leads to an increase in public understanding of behavioral health issues and early intervention for people with mental illnesses and substance use disorders."
According to the Carter Center, one in five American adults experienced a mental illness in the past year, and 20.7 million adults (8.8%) had a substance use disorder.