Dart Hosts Afghani Women Journalists
June 2, 2014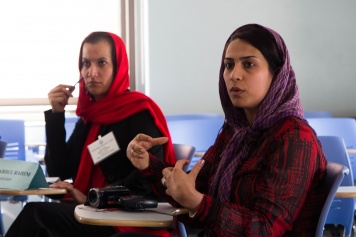 "When I am interviewing these women, I know that there is nothing that I can do for them. I can hear their story, and share it, but that is all I can do to help," said a radio reporter from Kabul. "I can leave at the end of the interview. The woman I am interviewing can't."
On Friday, a delegation of Afghani reporters visited Columbia Journalism School as part of the Women Journalists and Media Advocacy agenda scheduled by the State Department's International Visitor Leadership Program. They joined Dart Center executive director Bruce Shapiro for a spirited conversation on covering trauma, psychological injury and self-care. 
The 90-minute discussion began with participants recounting particularly challenging stories of covering violence and tragedy, including reporting on prolonged refugee crises, children orphaned by war, and unrelenting (and generally unreported) domestic violence. As one reporter explained, some instances of violence against women, when the police force or military are involved "cannot even be touched."
Despite the challenges they face, the journalists appeared committed to their profession. One described the pride she felt covering Afghani elections in which women were allowed to vote, explaining that her life's mission was to "bring a woman's voice to the world." Others asked Shapiro for advice on how to continue their careers.
"If we feel we're doing the best job we can, that's very protective in the face of trauma. There's a close relationship between journalism ethics and resilience," explained Shapiro. "If we feel we're making the right ethical calls, then that is going to help us be stronger and deal better with trauma when it happens."
Click here for a full list of participants.