GroundTruth Project Launches Field Guide for Correspondents
March 9, 2015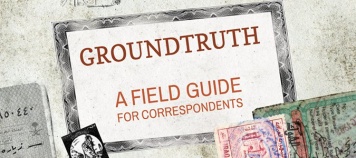 The GroundTruth Project has released a 61 page guide to encourage safe on-site reporting in all corners of the world. The 2015 edition of "GroundTruth: A Field Guide for Correspondents" features a call for worldwide freelance protection standards first released last month, as well as a collection of recent essays from field correspondents on the nature of their work. 
Featured essayists include veteran foreign correspondent and former kidnapping victim David Rohde, who scrutinizes how both the government and media approach kidnap for ransom, and freelance journalist James Foley, who explained why he returned to Libya in an essay first published in 2012.
"We now feel stronger than ever about how to train and mentor the next generation," said Executive Director Charlie Sennott, a close friend of Foley who co-founded GroundTruth in 2012. "We need to build a community of people who want to do the work that matters, but train them on how to do this safely."
The guide also includes a resource guide for journalists in the field, and points to the Dart Center and the Overseas Press Club of America, who hosted a panel together in October on freelancing safely.
Click here to download the complete GroundTruth guide, and watch October's panel video below: