In Aftermath of Cyclone Pam, Resources for Journalists
March 16, 2015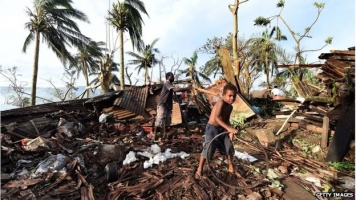 A cyclone ravaged the Pacific island nation of Vanuatu early on Saturday, killing at least 24 people and displacing upwards of 3,000, according to the United Nations. The category five tropical storm brought with it winds of up to 185 miles an hour, tearing apart as many as 19,000 homes and leaving survivors scrambling to make it to one of 37 evacuation centers that have since been set up.
"The humanitarian need is immediate, we need it right now," said Vanuatu President Baldwin Lonsdale, who was attending a disaster preparedness conference in Japan when the storm hit. "After all the development we have done for the last couple of years and this big cyclone came and just destroyed all the infrastructure the government has built. Completely destroyed."
Many towns and villages remain out of contact with the nation's capital, Port Vila, leaving government officials, relief workers and members of the media uncertain about the full extent of the damage.
The storm is weaking as it makes its way toward New Zealand, and poses no further threat to the South Pacific, according to a report by the UN Office for the Coordination of Humanitarian Affairs.
The Dart Center has a host of tips and resources for journalists covering tragedy on this scale below: