Changing Journalism Culture Through Peer Support
November 10, 2009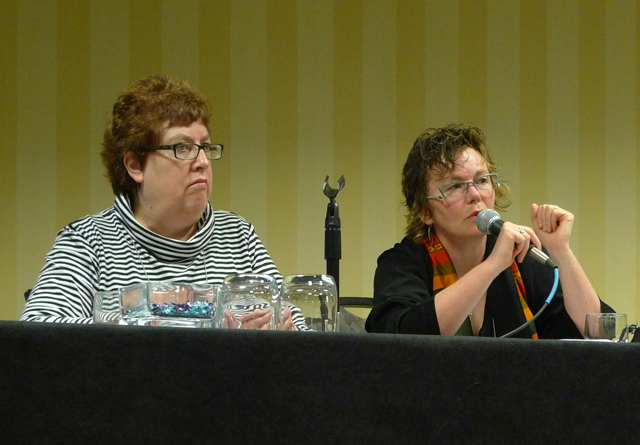 At first blush, the cultures of journalism and the military seem as opposite as transparency and secrecy. But in one respect, the Australian Broadcasting Corporation, the British Broadcasting Corporation and the British Royal Navy are identical: They each have a robust peer support program designed to deal with the emotional stress of working in a realm of violence and death.
Those programs — their history, their record and their needs — were the subject of a Nov. 5 panel discussion at the 25th annual meeting of International Society for Traumatic Stress Studies in Atlanta, Georgia. Heather Forbes (left), director of news training at the ABC, and Cait McMahon (right), psychologist and managing director of Dart Centre Australasia, emphasized how the ABC system actually works: from the application process and training of its cadre of journalist peer supporters to the phone call check-ins that one peer supporter and camera operator made to younger colleagues covering the 2009 bush fires in Victoria.
Sarah Ward-Lilley, managing director of news and news gathering at the BBC, emphasized just how revolutionary this common-sense idea of journalists supporting journalists is. Until recently, what Ward-Lilley called newsrooms' "macho culture" and Forbes called "being 'hairy-chested'"  meant that few reporters wanted to talk about how traumatic stories had affected them. In championing peer support, Ward-Lilley said: "I've set myself a sort of mad target of trying to get the BBC to change its whole culture."
The history of the BBC's trauma support program tracks with that of the ABC, emerging gradually in the mid-1990s, as broadcast organizations learned from their experiences in Bosnia. As Ward-Lilley described it, news managers realized journalists needed some form of "hostile environment training" to stay physically safe in a war zone. Training for "emotional safety" was slower in coming. But as time went on, the BBC began incorporating a tool borrowed from the military: the Trauma Risk Management model (known as the TRiM model).
Surgeon Commander Neil Greenberg, a senior lecturer in military psychiatry, described the TRiM model, in which trained teams of soldiers watch out for their peers, in the context of stigma. He cited studies showing that the barriers that prevent soldiers from talking about their experiences include the worry that they will be less likely to be given responsibility, or that they will not be trusted by their peers. It's those same peers with whom veterans (and, one might extrapolate, journalists) are most likely to speak after a traumatic event, which makes them a crucial resource, especially in the field.  "Their credibility comes from many years of experience ...  When you're at that incipient point ... these are the people they need to see."
But Greenberg and Ward-Lilley were also both quick to emphasize that, in traumatic assignments, a supportive manager is as necessary as peer support. This can mean everything from encouraging self care to engaging personally. "Everyone keeps telling me they want their manager to ring them and say thank you," said Ward-Lilley.
"I do not think we should see [peer support] as a replacement for good managerial support," Greenberg cautioned.
"If you were asking who is the pivotal person ... It's someone's immediate boss."