Breaking the Taboo: Marroushi on Conflict Zone Reporting & PTSD
September 4, 2014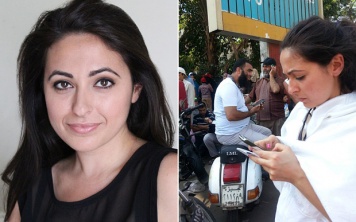 Following the murders of Steven Sotloff and James Foley by Islamic State extremists, foreign correspondent Nadine Marroushi wrote in The Telegraph about the physical and mental health risks of reporting from conflict zones, and her own battle with PTSD.
"I couldn't get on a train in the underground without experiencing a panic attack. Every time I looked into a man's eye I felt they were ready to attack me. I was terrified. The buzzing sound of helicopters always brought me back to the low flying Apache helicopters the Egyptian army flew over crowds of protesters," wrote Marroushi, who was based in Cairo for three years. "I found little discussion about journalists' experiences of PTSD online. It was as though it was a taboo subject, and I felt embarrassed that I was experiencing this."
Marroushi, who has written for The Financial Times, Bloomberg, Slate, The Independent and many other publications, also wrote of her experiences as a female reporter in the Middle East, her attempts at finding relief and community, and her uncertain future as a freelancer.
"The rewards of being a freelance journalist in the Middle East no longer seem as appealing as they once were in the early days of the Arab Spring, as the risks have become increasingly grave," she wrote. "I am now searching for a new way to engage."
Click here for self-care strategies and other Dart Center resources.