Reuters to Cover Costs for Hostile Environment Training
October 5, 2015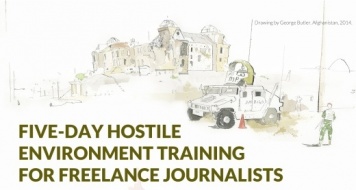 Thomson Reuters will cover the costs for up to fourteen freelance journalists to attend a Hostile Environment Training course run by Hawthorne Proactive from November 22 - 27 in Belfast, Northern Ireland.
Hawthorne Proactive is a Northern Ireland-based security firm that runs courses for journalists operating in difficult areas of the world. The firm's instructors have extensive operational experience in places like Colombia, Iraq, Afghanistan, Pakistan, Libya and Syria.
Thomson Reuters will cover costs of training, course materials, accommodations, food and non-alcoholic beverages for the duration of the course for the selected applicants. Applicants are responsible for their own travel to and from Belfast, though the Pulitzer Center has agreed to cover the cost of transport for a limited number of applicants who can demonstrate a clear financial need.
Applications should be submitted via email to the Pulitzer Center, with "Hostile Environment Training" in the subject line.
The submission deadline is October 15.
Applications should include:
a cover letter describing how and why the training would be beneficial;
a CV;
links to two work samples;
contact info for three references.
Applicants interested in the additional travel support from the Pulitzer Center should state so in the cover letter, and include a description of why they need this support.
The Pulitzer Center will review all applications and select up to 14 participants, as well as support travel for a limited number of applicants who demonstrate financial need. Journalists selected for the training will be notified by October 22.