UN Launches Virtual Reality Film on Syrian War
September 30, 2015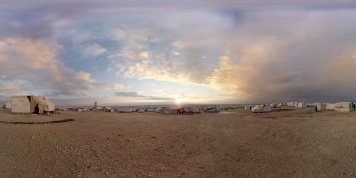 The United Nations, in collaboration with Samsung and Oculus, has launched a journalism project that uses virtual reality to cover the war in Syria.
Clouds Over Sidra, the first film to be shot in virtual reality for the United Nations, follows a young girl as she describes her life in the Za'atari camp in Jordan, currently home to 84,000 refugees. Twelve-year old Sidra takes the viewer on an immersive, eight-minute journey through the camp's muddy streets, including stops in a cramped classroom, a makeshift exercise gym and a small tent with her family for dinner.
"I think being here for a year and a half has been long enough," she says, as the film's sole narrator. "I will not be twelve forever. And I will not be in Za'atari forever." 
The film, a collaboration between the UN Millennium Campaign and UNICEF Jordan designed to highlight the UN's campaign in Syria, was created using VRSE tools and is available on the VRSE application on iTunes and Google Play.
Virtual reality headsets, like the Oculus Rift device, allow the viewer to experience the panoramic reporting in three dimensions.
Gabo Arora, a UN senior advisor and filmmaker who worked on the project, thinks virtual reality may be the future for immersive journalism.
"A YouTube video or a talk can give you information but not necessarily the ability to immerse yourself in the world of another, and also interact with people," said Arora in an interview with Wired. "There's something about how VR is being made—there's a spontaneity and naturalness that's not necessarily coming out in other means."
Arora also worked on another virtural reality film this year, Waves of Grace, which features a young Liberian woman, Decontee Davis, as she pleads for help to rebuild her country after it was ravaged by the Ebola virus.
"I remember the fear—the fear people had of me," says Davis, an Ebola survivor. "They were too scared to even touch me. And I was scared of my own child. I was scared of the man I loved. Forgive me, Lord. Forgive me."
Another recent virtual reality endeavor, a partnership between SMART (Syrian Media Action Revolution Team), ASML (Organisation for the Support of Free Media) and Okio Report, plants the viewer in Jisr al-Shughur, Syria, one of the world's most dangerous warzones. The headset allows the viewer to navigate through the footage and explore the devastation in 360 degrees:
In November, the Tow Center's Taylor Owen and Fergus Pitt will publish a research report exploring what the uptick in virtual reality projects could mean for the future of journalism. Their film, "Ebola Outbreak: A Virtual Journey," debuted on PBS Frontline last weekend.