Baker Boys: Inside the Surge
This four-part independent documentary gives viewers a window into the everyday lives of American soldiers in Iraq, and the emotional and physical cost they bear. Originally produced in 2009.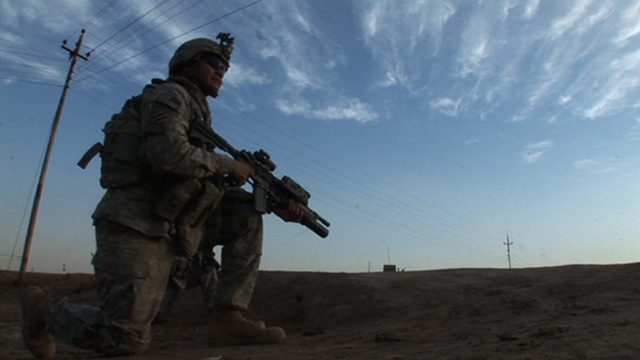 This documentary series, independently produced in 2009, is an honorable mention for the 2010 Dart Award for Excellence in Coverage of Trauma.
"Baker Boys: Inside the Surge," a documentary by director Ken Konwiser and writer/cinematographer Jon Steele, offers a unique, on-the-ground look at the conflict in Iraq. Through four 60-minute episodes, viewers accompany the men of Baker Company in the final 90 days of their tour of duty, following them from a counterinsurgency mission to their return to Fort Benning, Georgia. The film addresses the day-to-day realities of war as well as the psychological impact of the battlefield on those who experience it first hand.
Shot from the perspective of the soldiers themselves, "Baker Boys" is an illuminating document of the language and habits of military life, colored by a subtle humanity and pervasive sense of sacrifice. As the Baker Boys "surge" toward an Al Queda stronghold, it becomes clear that the conflict is not only one of abstract and oppositional forces, but also entails the immediate dangers and confusions that, for a growing number of Americans, have become commonplace.
Watch the Trailer