Book Review: Thank You For Your Service
Matthew Ricketson, a director of the Dart Centre for Journalism and Trauma Asia-Pacific, review's David Finkel's latest book "Thank You For Your Service." A version of this review originally appeared in The Weekend Australian on October 12, 2013. On November 20, the Dart Center will host a conversation between Finkel and Steve Coll at Columbia Journalism School in New York City. Click here for event details.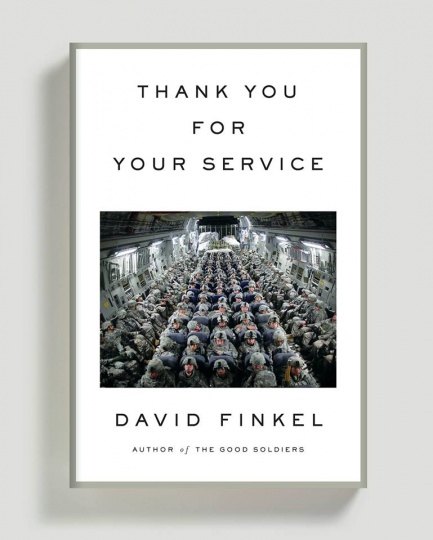 Click on PDF to download the prologue, excerpted from THANK YOU FOR YOUR SERVICE by David Finkel, published in October 2013 by Sarah Crichton Books, an imprint of Farrar, Straus and Giroux, LLC. Copyright © 2013 by David Finkel. All rights reserved.
The title of David Finkel's new book, Thank You For Your Service, comes from the phrase routinely uttered by Americans to their countrymen returning from the wars in Afghanistan and Iraq, but many veterans loathe it.
One of them, Adam Schumann, suffering from post traumatic stress disorder and having come close to committing suicide, is invited by a well-meaning Veterans Affairs officer to an all-expenses-paid pheasant hunt promoted as a weekend for "Healing Heroes, Healing Families!"
Schumann hates the "We Support the Troops" bumper stickers on cars driven by people who have never been to war, never will go, and who say to soldiers, "Thank you for your service," with their "gooey eyes and orthodontist smiles." They fawn over the soldiers with gunshot scars and missing limbs but miss Schumann's invisible scars; which makes him feel even more worthless.
Yet Schumann was an exceptionally brave soldier who hoisted on his back a wounded comrade whose blood ran into Schumann's mouth as he carried him to safety, and lingered on his taste buds for years that followed. Schumann was also brave enough to ask for a "mental health evacuation" when he could no longer go on fighting.
Life after three tours of duty is as hard, if not harder, for him, his wife Saskia and their young children. He can't work for any sustained period; he and Saskia fight bitterly and continuously. The book opens with a scene of Schumann cradling his four-day old baby in their bed. As he falls asleep he loosens his grip and awakens only when he hears a crack followed by a thud as the baby hit the floor. 
Thank You For Your Service is an almost unbearably sad book; it is also one I would urge you to read, to begin to appreciate the truly appalling toll war takes on combat troops. It is a sequel of sorts to Finkel's 2009 book, The Good Soldiers, which chronicled the eight months he spent with a battalion of 800 US Army soldiers from Fort Riley, Kansas, known as the 2-16 (Second Battalion, 16th Infantry Regiment of the Fourth Infantry Brigade Combat Team, First Infantry Division).  
The Good Soldiers, which won the J. Anthony Lukas Book Prize, showed how the Bush administration's "surge" policy in 2007 affected troops on the ground. Thank You For Your Service follows them home to report on the what Finkel calls "the after-war" which turns out to be disturbingly bleak. By 2010 the number of former troops who commit suicide exceeds the number of combat deaths, averaging almost one a day.
A Pulitzer Prize-winning Washington Post National Correspondent who now devotes much of his time to book-length journalism, Finkel is an extraordinarily compassionate writer. He almost never inserts himself into the narrative yet through painstaking research, saturation interviewing and first-hand observation, he takes the reader deep into the desperate struggles, the daily setbacks and the small victories of returned soldiers and their families.
The book is rendered in a series of scenes with a half dozen or so veterans and a widow who talks to her husband's ashes because she can't bring herself to do anything else. Finkel also shows the quietly heroic efforts of those who seek to help veterans; most are either veterans or married to one.  
Two of the veterans commit suicide, one after subjecting his wife to sickening verbal abuse and violence, the other after confronting both desolate guilt and dumb defiance over his role in the deaths of nine men including two journalists in Iraq that later became notorious as the "Collateral Murder" video on the WikiLeaks website.
Finkel has been criticised, with some weight, for failing to condemn the soldiers over the event, which he first wrote about in The Good Soldiers. 
In that book he was primarily concerned with "documenting their corner of the war, without agenda"; in this one, Finkel does not shy away from describing the impact of the killings but he reflects that the millions of viewers who commented on "Collateral Murder" did so "in absolutes and certainties, as if war could be comprehended fully by a high-speed connection to the Internet and a carefully edited video clip".
Surely it is not an either/or choice; we need both WikiLeaks' disclosing of information that had been kept secret and Finkel's quest to understand rather than judge.   
I won't tell you how the Schumann family fared by the end of the book. Finkel does not deal in syrupy Hallmark channel-style resolutions. If his work brings a tear to eye, and it did for me, it is in the vein of the ending of Samuel Beckett's novel The Unnamable: "You must go on, I can't go on, I'll go on".