Covering Sandy: Tips from Experts
November 28, 2012
The Dart Center asked journalists who covered Hurricane Sandy to share their tips on covering natural disasters.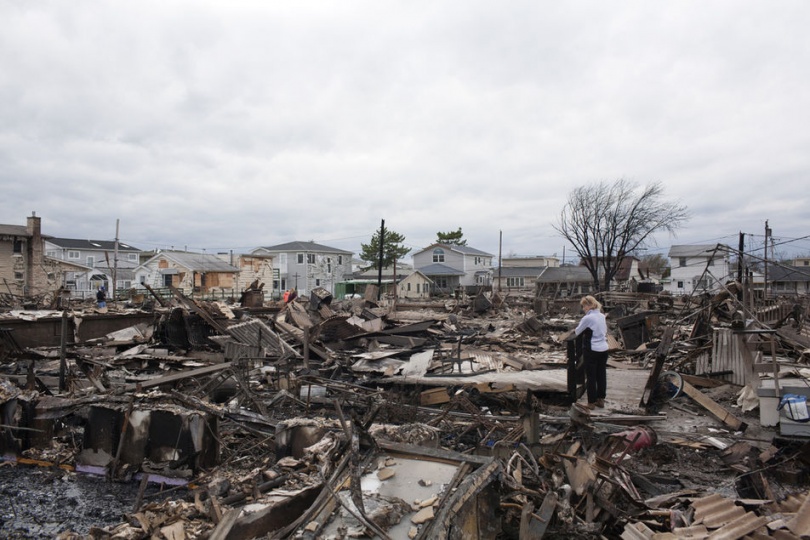 Born and raised in New York City, since 1996 photojournalist Alan Chin has covered conflicts in Iraq, the ex-Yugoslavia, Afghanistan, Central Asia, and the Middle East. Alan has most recently documented the aftermath of Hurricane Katrina in Louisiana and Mississippi. He contributes regularly to the New York Times, Newsweek, Esquire and Time magazines. The New York Times nominated his Kosovo coverage for the Pulitzer Prize twice.
Covering Hurricane Sandy these past few weeks reminded me of past disasters and conflicts where I've worked, and some of the practical issues:
The obvious things that are universal not just to journalists: flashlights, candles, non-perishable food and water, Swiss army knife/Leatherman tool. Snap-activated glowsticks. AC/DC power adapter for car. Not just the one that plugs into the cigarette lighter but one with the clips to go directly onto a car battery.
Transport: Bicycles are a great way to get around, especially in situations where roads can be blocked for whatever reasons -- debris, fallen power lines, etc. I have a folding bike that fits in the trunk of a car -- very useful.
CLICK HERE FOR MORE TIPS FROM ALAN CHIN.
Coverage from Alan: 
Hurricane Sandy by FCDA Photographers
Staten Island's Hurricane Sandy Wreckage
Hurricane Sandy's Terrifying Firefight
In the Wake of Hurricane Sandy 2012
Après Sandy, New York Solidaire
View from Newsmotion Headquarters in Brooklyn
Russell Lewis is the Southern Bureau Chief for NPR News, a post he has held since 2006. Lewis focuses on the issues and news central to the Southeast. In addition to developing and expanding NPR's coverage of the region, Lewis assigns and edits stories from station-based reporters and freelancers alike, working closely with local correspondents and public radio stations. He also spent a year in New Orleans after Hurricane Katrina, coordinating NPR's coverage of the rebuilding effort. 
One of the most difficult parts of disaster reporting is remembering how narrow a view you have when you're on the ground in the middle of it all. It's easy to get wrapped up in the minutiae. But it's important to focus on the facts. You hear a lot of rumors—only report what you know, witness or can confirm. And even that, it's important to ask this question to sources: "how do you know what you know?" They just may be repeating the latest rumor they saw on social media.
Also—it's important to take a break. It's easy to work 16 hour day for five days straight. It's also not healthy. You need to take a break to decompress—no matter how difficult that might seem. It's important for your mental health.
Dionne Searcey is an investigative reporter with the Wall Street Journal and a past national legal correspondent and telecom reporter. Formerly a local political reporter at Newsday with stints covering topics as diverse as the war in Iraq and criminal trial of Michael Jackson.
Get dirty when you have to, but always ask around before you get yourself dirtier than you need to. I was about to head into waist-high water in Breezy Point, Queens, to get to the site where dozens of homes burned to the ground when I overheard someone say that the damaged boardwalk was above water and passable. Not only did that likely save my gear from getting wet, it saved time.
Coverage from Dionne:
After Blaze, Breezy Point Bands Together 
As Floodwaters Recede, Sandy's Death Toll Grows 
Sandy Stirs Toxic-Site Worries 
Cara Buckley is a reporter for the New York Times' Metro section. She joined the paper in June 2006 and has covered the NYPD, public housing, youth culture and also reported from Iraq. Prior to that she was a staff writer at the Miami Herald, covering statewide stories and reporting from Haiti. She won a Sunshine State award for her coverage of the Caribbean in the aftermath of Hurricane Ivan.
1) Before the storm (and after)—make contacts in areas that are expected to be hit. Grab cell numbers. Not only are you building a relationship with someone, but you'll be able to track the trajectory of their lives before and after, the physical as well as emotional hardships and journeys. If phone reception isn't lost, you can also get them to describe weathering the worst of the storm as it happens. Ask them too how their neighbors fared—the most compelling stories travel fast in hard hit areas
2) Logistics, also before the storm - rent or line up a truck or SUV so you'll be able to drive in flooded areas. get an electric adapter for the car lighter. Fill up the tank and, ideally, strap a few extra tanks of gas to the roof or store them somewhere else—lack of electricity and gas are endemic to areas hit by bad storms. And stock up on pencils; unlike pens, you can write with pencils in the rain.
Coverage from Cara: 
Panicked Evacuations Mix with Nonchalance in Hurricane Sandy's Path 
Power Failures and Furious Flooding Overwhelm Lower Manhattan and Red Hook
In New York's Public Housing, Fear Creeps in with the Dark
Back to School, Bundled up, But with Lingering Questions