Radio in Chile: Voice of Recovery
After Chile's earthquake, the government was widely criticized for its slow response. But some community radio stations were hailed as heroes.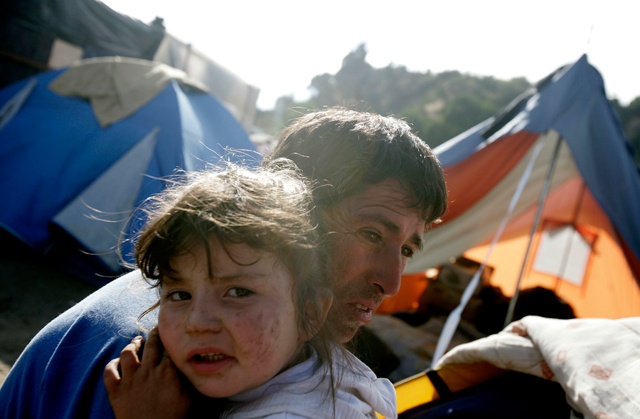 When the magnitude 8.8 earthquake hit south-central Chile early on February 27, everything went silent. No electricity, no cell phones, no computers, and most importantly, says Mauro Morshiatti, no radio. But within 15 minutes Morshiatti and his team of engineers, producers and reporters at the Radio Bio Bio network, headquartered in Concepción, a town of a half million people near the epicenter, had broken the silence with a simple broadcast. He had no information about the extent of the damages or the government response, but Morshiatti knew he had to get on the air.
"When there is silence it means you're absolutely alone. And after an earthquake that's distressing. And the newspapers can't solve that, it has to be the radio," he said. "It has to be a voice."
Radio Bio Bio and dozens of small community radio stations throughout Chile's disaster zone became the voice of emergency, response and recovery in the hours, days and now weeks following the devastating earthquake and tsunami. While government agencies and the military are widely criticized for a slow response — and in some cases, no response at all radio operators have been hailed as heroes. Indeed, for all the praise heaped on Chile for being the most developed and technologically advanced nation in the Americas (15 million cell phone users and 5.5 million Internet users in a country of around 17 million), at a time of crisis, Chileans turned to radio, one of the most basic and traditional forms of media.
All along the south-central coast, the area hardest hit by the earthquake and tsunami, communities were searching for answers:  Where can I get water? When will the electricity be restored? How long will I have to wait for a temporary shelter? Where will my kids go to school when classes start in a month? A week after the disaster residents of Coronel, a town of 100,000 people just south of Concepción, were hard hit by the earthquake and still looking for basic answers. On the bluff above the town, Marcia Torres spoke in a hushed tone so her daughter would not wake up. The two of them had been sleeping on an air mattress next to the recording booth of Radio Dinamica, the family-run station she's managed for sixteen years. A foot from their bed a large crack ran under the carpet. The tremors apparently passed right under the station and pushed part of the terrace over the adjacent cliff. Torres spent the first week after the disaster taking turns with one other radio announcer, keeping the station going 24 hours a day. "I have to be here," says Torres. "People cling very much to the radio; they see it as a huge support for them."
Thanks to an emergency decision by the mayor of Coronel, within hours of the disaster local firefighters had outfitted Radio Dinamica with a generator and the fuel to get it back on the air. The station became the center for the relief effort. Torres even put up speakers on her damaged terrace to broadcast important information to neighbors down below.
"People had to come by foot because there was no transport, no gas, so people walked many kilometers to get here and ask for help."
Torres says she was able to connect people with missing family members, organize and collect water, food and other relief materials, and communicate other important emergency information. Looting in the aftermath of the earthquake destroyed local pharmacies, grocery stores, and other essential businesses. Radio Dinamica responded by turning one of their two studios into a makeshift pharmacy, putting out an amnesty call to locals to bring back medicines — no questions asked — to the station.
"We have to tell the truth, even if it hurts."
"We asked people to bring us the medicine they didn't need. So we started helping people who needed medicine for cancer, thyroid disorders, high blood pressure. And if we didn't have the medicine, we asked for it through the radio."
Throughout the emergency zone local authorities and small radio stations emulated Dinamica and the town of Coronel and partnered to get basic information out to affected listeners, and coordinate aid efforts. The Municipality of Tome witnessed the destruction of two of its small fishing villages by the enormous tsunami waves that followed the earthquake. Mayor Eduardo Aguilera used both Radio Bio Bio and local station Radio Aquamarina to reach his constituents with emergency directions.
"I warned the people to stay in the higher areas, that we would distribute help once it got there to the different areas and that people should come to this place to inform us about the damage their homes had. That was what we did then; we asked people to calm down, to respect the rules and not to expose themselves to any dangers during the night."
Aguilera says he started a routine of having afternoon meetings of his emergency response staff, and then directly afterwards going to the radio stations to personally share the information. Putting local leaders like Aguilera on the air helped comfort community members and also gave them access to ask important questions.
A full two weeks after the initial earthquake, downtown Concepción came back to life as rubble was cleared from the streets and businesses that somehow survived the horror of an earthquake followed by massive looting began to open their doors. A group of young reporters gathered in a small naturopathic pharmacy storefront and took a seat amidst a sea of herbal remedies.  Radio Ines de Suarez and its offices were completely destroyed by a falling wall from a large department store. The station was back on the air after a week of repairs, broadcasting from a small shack next to the transmitter on a nearby hill.
Claudio Arévalo, the news director for the station, got up from his seat and began to rally his troops, a group of six who had not seen each other since the disaster. Many of them still did not have running water and were busy making sure their families were settled before they took the step of getting back to work. Arévalo told his team that while they missed covering the initial emergency there was still a lot of important work they could accomplish in the aftermath.
"People need guidance, information, they need a service that can connect them in a better way, so that they know how their relatives are, in which condition the bridge is, when is the best time to cross it, when there is more traffic, contacting the police, knowing what's happening with the municipalities. There's a lot of help but I know areas where they haven't received anything. And this is something journalists need to cover. We have to tell the truth, even if it hurts."
A week after the disaster, residents of the fishing village of Candelaria lamented the loss of their homes and most of their possessions to the tsunami. The community of approximately 30 families were now living in makeshift tent encampments in the hills above their former town. Besides saving his fishing boat and his small home, Hectar Oliveres said what he wanted most in the quake's aftermath was information.
"When we were living here [in our homes], we had a television, we had newspapers, radios."  But no one at the encampment had access to a radio. If they had, he said, people would have felt less alone.
"Because if you don't have information, you don't have anything, really."