Letter from Tbilisi
A former Ochberg Fellow describes the impact of the summer war between Georgia and Russia and remembers three colleagues who died while reporting.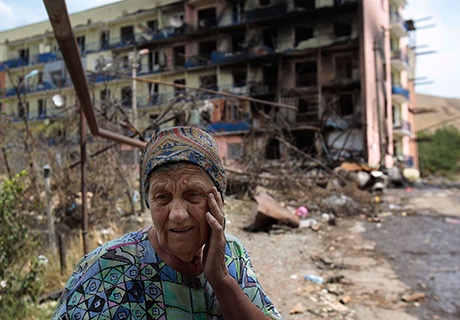 The certain sign that the military phase of the crisis involving Georgia and Russia was ending came when Georgian journalists began to return  to the capital, Tbilisi. They found their way back to their computers after six days of bombing and artillery attacks; six days during which cell phones were the only possible way to transmit to their editors what they had seen and the information they had found.
It was the last assignment for at least three journalists:  Giga Chikhladze, who was my student a few years ago, and Sasha Klimchuk, both of them reporters for the Russian edition of Newsweek; as well as Dutch cameraman Stan Storimans.
The cause of this war — and of my colleagues' deaths — was the unresolved post-Soviet dispute over the small territory called South Ossetia, with no more than 100,000 inhabitants. Formerly an autonomous oblast in Soviet Georgia, South Ossetia unilaterally declared its independence in early 90s. So did the autonomous republic of Abkhazia, also bordering the Russian Federation. In the wars that followed, the Georgian government claimed Russia was helping the breakaway republics.
Neither side won those wars: Georgian forces were not able to reclaim the rebel regions, but no country in the world recognized them as independent states. For more than 15 years, Russian peacekeepers enforced the ceasefire agreement in both conflict zones. Negotiations continued but were all but dead.
The new crisis started in early morning of August 8, when a massive artillery attack by Georgian forces devastated Tskhinvali, the capital of South Ossetia. Immediately afterward, Russian tanks entered the town and Russian military aircrafts bombed Georgian army positions. Although Russia declared that their army was helping peacekeepers to stabilize the situation, bombing of different parts of Georgia followed and continued for days.
Giga and Sasha, along with Temuri Kiguradze and Winston Featherly of The Messenger, an English-language newspaper published in Georgia, were in a car in Tskhinvali when someone — probably a Russian patrol — shot at them. Giga was driving. Sasha sat next to him. They died immediately. Temuri and Winston were injured. The patrol took them across the Georgia-Russia border to a hospital in the Russian city of Vladikavkaz.
"I urged them not to go there," Zaza Gachechiladze, the editor of The Messenger, told me. "I begged them at least to stop in Gori," the Georgian city closest to the conflict zone. "They just smiled and said, 'Don't worry. It's ok.'"
"There was a 'Press' placard on the car; I myself helped to install it," Giga's brother Irakly Chichladze told me. "Maybe it was not big enough? Or maybe they shot at them intentionally, because the car had Georgian license plates."
Ethnic tension and hatred are not rare in the Caucasus. Intolerance and unresolved conflicts blight the region. Its different parts are geographically isolated from one another, and the region has always been affected by a critical lack of information from the "other" side. Now, with the return of war, the region is fully divided.
For journalists, it is especially hard to find reliable information in places where dreadful rumors abound, and where travel is extremely restricted. I was driving from east to west after the war began, to the places that were reported to be bombed, watching and talking to locals. I still constantly call friends and relatives in various places asking them what they personally saw and heard.
"In the first minute of the war I formed several teams of my best journalists and sent those into every place that had been bombed," Paata Veshapidze, editor of 24 Hours, a mainstream Georgian newspaper, told me.
The paper's last team returned to Tbilisi the night of August 12: two reporters and one photographer, who worked in the western region of Samegrelo, close to the conflict zone of Abkhazia. They slept in the car, and what food they could find was not good. It took them 13 hours to drive 220 miles back to Tbilisi, taking side routes to avoid the main road closed by military forces: they decided not to risk discovering whose forces they were.
But Paata still prefers to send reporters from Tbilisi than to involve provincial journalists in cases of crisis. "They aren't professional enough, and unfortunately too often biased, have to take into consideration the opinion of the local influential personalities."
Despite such efforts, coverage of the war is still one-sided. Russian media never mentioned the outrageous bombing of Georgian cities. Nor do Georgian media say a word about the hundreds of civilians killed during Georgian artillery attacks in South Ossetia. Russian TV channels as well as online resources are blocked within Georgia "to avoid provocations and disinformation." Journalists personally cannot — and don't want to — contact colleagues from the "other" side because of their ethnicity.
According to different sources, up to 3,000 from both sides are dead. Approximately 100,000 refugees poured into the Georgian capital of Tbilisi and the Russian city of Vladikavkaz. With neither side informed about the losses and sufferings of the other, prejudice fuelled by a lack of information endangers the future of all the people in the region.
The bodies of Giga and Sasha remain in Tskhinvali. The opposing sides can't agree upon a "corridor" to transport them to Tbilisi. Temuri is still at police station in Russian city of Vladikavkaz, injured and shocked. For him, getting home is a real problem:  as a Georgian, he has no Russian visa and might be tried by a court. An Ossetian colleague promised to check on Temuri for me and at least feed him, despite the fact that Temuri is a "Georgian enemy."
While Western countries conduct negotiations to overcome the political conflict in the wake of this war, journalists can, by collecting accurate information and sharing their stories, do much to prevent the escalation of hatred. In that way they can bring about a safer future for their societies.
They also can help each other to be safer. Tragically, most of them do not know how or do not think about it.