Rwanda Documentary Illuminates Lingering Effects of Genocide
Through the window of an airplane about to land in Rwanda, the verdant mountains and lush foliage below appear as a slice of paradise on earth. But those familiar with the history of this central African nation know that its past is far from heavenly.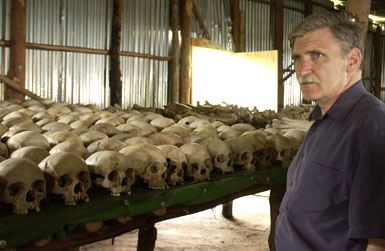 Shake Hands with the Devil: The Journey of Roméo Dallaire
Through the window of an airplane about to land in Rwanda, the verdant mountains and lush foliage below appear as a slice of paradise on earth. But those familiar with the history of this central African nation know that its past is far from heavenly. In 1994, over a hundred-day period, 800,000 Rwandan men, women and children were brutally murdered while most of the world looked the other way. The violence was a result of intense conflict between the Hutu and Tutsi ethnic groups. The minority Tutsis and their moderate Hutu supporters were the main targets of Hutu militia and marauding gangs armed with guns, clubs, grenades and machetes. In addition to those murdered, other Rwandans were beaten and maimed.
This is the story most people already know. It has been told in books and articles in the intervening years since 1994. What a new documentary film adds is a ground-level perspective from the Canadian Army general whom the United Nations put in charge of maintaining peace in Rwanda around the time of the genocide. "Shake Hands With the Devil: The Journey of Roméo Dallaire," directed by Peter Raymont, is a powerful and often moving portrait of a man who has tried to extricate the demons of his past from his life but—like the peace-keeping mission he oversaw in Rwanda more than a decade ago—has not been entirely successful.
On the 10th anniversary of the Rwandan genocide, (Ret.) Lt. Gen. Roméo Dallaire is on an airplane with his wife Elizabeth as it flies over the beautiful Rwandan landscape. "To me it seemed like going back into hell," the general says in the film. It is a startling comment juxtaposed against the peaceful scenery of Rwanda in 2004.
The filmmaker follows as Dallaire revisits the places he once roamed as commander of an ill-equipped U.N. peacekeeping mission. Although the new Rwanda is free of the dead bodies lining the streets and piled high at designated areas for mass burning or burial, Dallaire's mind has not been as thoroughly purged of the carnage. The images are as clear to him ten years later as they ever were. "So many bodies, we couldn't pick them up," he says. He describes the overpowering stench of death, the look of fear on people's faces and the sound of growling dogs guarding their human carcasses.
Dallaire was in Rwanda months before the mass genocide began. He admits he did not know much about Rwanda before he agreed to go there—leaving behind his wife and 15-year-old son in Canada—but he believed he could do some good. His wife had concerns but did not try to stop him. For a career military man, this was an opportunity to make a contribution at an international level.
Once in Rwanda, Dallaire found the country on the brink of political chaos. Given a force of only several hundred peacekeepers from different countries, Dallaire felt ill prepared to deal with the crisis he saw ahead of him. He pleaded with the U.N. to send reinforcements and revise their rules of engagement, but his calls went unheeded. His frustration and anger grew as he was rebuffed at every turn as he tried to awaken the intergovernmental organization and the world to the catastrophe about to occur.
To make matters worse, Belgium decided to withdraw its well-trained soldiers after ten of them had been killed by Hutu militia, leaving Dallaire with even fewer peacekeepers at a critical time in the conflict. Other nations sent soldiers in to Rwanda as tensions increased, but their goal was to safely escort their respective ex-patriots out of the country, and once this mission was accomplished, the soldiers left.
"Shake Hands With the Devil" tells a compelling story about the terrifying collapse of social order: political assassinations, lawlessness, failed peace treaties, mass emigration of refugees, death lists, the harmful effects of colonization and the rise of guerilla armies. A key piece of the central narrative, however, deals with the lingering internal conflict Dallaire struggled with in the years since leaving Rwanda. It is a vivid and extended example of how trauma can follow you for the rest of your life.
Because of international indifference toward Rwanda in 1994, the genocide took place while Dallaire and his peacekeepers were essentially helpless, doing what they could under the circumstances to comfort and protect thousands of vulnerable Rwandans under the most precarious conditions but not able to save many others. For years he harbored tremendous hostility toward many national governments and the U.N., asking questions such as why military intervention was offered to the people of Yugoslavia but not to Rwanda when the threat in the latter country was so much greater? He says he was once told that Rwanda had "no strategic value" to many of the countries that could have done something to stop the genocide. "All it had was people."
Dallaire has been credited for sticking it out in Rwanda even as the situation appeared hopeless. He enlisted the help of foreign journalists to help tell the story of what was happening in Rwanda and did manage to get the story out there to some extent, but more people seemed obsessed, for example, with the murder trial of a former NFL football star than with the fate of hundreds of thousands of Rwandan men, women and children.
Some of the questions raised in "Shake Hands with the Devil" are inevitably existential. Dallaire himself has asked, "Are all humans human, or are some humans more human than others?" He contemplates the personification of evil. Dallaire wasn't able to let go of his rage for a long time after returning to Canada. "My hatred was beyond bounds," he says, "and it stayed like that for many years."
Dallaire shares that he has suffered from sleep problems, depression and post-traumatic stress disorder. He has contemplated suicide. He has taken medication "just to stay reasonable." He was once found drunk under a park bench, an incident that was reported in the news media. It has been difficult to get the images of Rwanda—the Rwanda of 1994—out of his head. He believes that returning there in 2004 for the 10th anniversary, however, has been therapeutic, as well as painful. Things have changed for the better in that country, although he was disappointed that world leaders were not there to observe the occasion at a ceremony along with the Rwandans. One Rwandan said that they have come not to expect much from other countries and are rarely disappointed.
Several years ago, when introducing Dallaire to an audience, the Canadian Ambassador to the U.N., Paul Heinbecker, called Dallaire "a Canadian hero." Although this was not in the film, the ambassador made what many people today would agree is an accurate assessment of the Rwandan situation. "In January 1994," the ambassador said, "General Dallaire sent out the alarm with credible information of an impending catastrophe. The United Nations and the membership of the Security Council failed General Dallaire, it failed the people of Rwanda, and it failed humanity. 'Never again' was what we had all said. General Dallaire told us that 'never again' was happening again, and the Security Council played word games with the Genocide Treaty. It was one of the darker moments in history."
In the film, Dallaire says he is not comfortable being referred to as a hero, considering how many people died as a result of the genocide. He seems permanently scarred by the trauma and violence he saw in Rwanda, and he says he has asked himself why he survived while so many others did not. He reasons that perhaps as a survivor he can bear witness to the brutality and evil he saw in 1994 in the hope that it will never happen again. He has co-written a book—it took him seven years before he could write about his experiences—called, Shake Hands with the Devil: The Failure of Humanity in Rwanda.
The film "Shake Hands with Devil" raises many important issues in an engaging and often tragic context. Among these issues are the lingering effects of psychological trauma and the need for long-term solutions to human conflict. It is a film that is likely to agitate people's comfort zones and, one hopes, inspire them to grapple with some of the same practical and existential problems that continue to haunt Roméo Dallaire.