UN Pilot Country Pakistan Takes On Journalist Safety
Pakistan is consistently rated one of the most dangerous countries in the world for journalists. A 2011 Dart Centre Asia Pacific Fellow and the director of Pakistan's first media and development sector watchdog organization, Freedom Network, weighs in on the state of the Pakistani media and a new program to address the problems.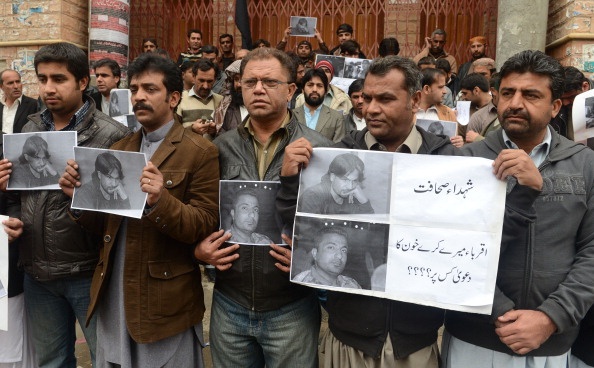 September 8 was a historic day for democracy in Pakistan: An elected civilian president completed his term and exited peacefully alongside a guard of honour. A new president took his oath the following day. The country has not seen moments like these before.
These historic events have led many in the country to believe that, with democratic institutions being strengthened and parliamentary norms looking stronger than before, respect for press freedom will grow and issues of journalists' safety will come to the fore.
But, while that hope exists, there is little confidence that things will change. The previous elected Pakistan People's Party government completely failed to hold accountable those attacking media professionals.
Journalism is one of the riskiest professions in Pakistan. Six journalists have been killed so far this year. The country has consistently been rated one of the most dangerous places in the world for journalists.
The principal challenge faced by Pakistan's media is impunity of groups perpetrating attacks against journalists. As recently as August 21, the mutilated body of journalist Abdul Razik Baluch, missing since March 24, was found in Karachi, the country's financial hub. Abdul had been so badly tortured that his sister, Saeeda Sarbazi, could not at first identify his body.
Ali Khan Chishti, a Karachi-based investigative journalist contributing to national and international publications on security matters, was abducted on August 30. Uniformed officers of what Ali believes to have been Karachi police intercepted his car around 8 pm, detaining him for nine to ten hours, while they beat and terrorized him.
"You thought you could get away? No, you can't. Prepare to die," a man in his mid-30s told Ali, after he was taken, blindfolded, to a safe-house in what appeared to be a police van.
The journalist was freed only after he agreed to his abductors' demands to leave the city. His attackers appear annoyed with his writings about Karachi, where there are turf wars between different types of mafias and gangs operating independently or under the protection of a range of political parties.
"Media in Pakistan continues to face grave threats, including threats to the lives of journalists," Islamabad-based media analyst and media development specialist Adnan Rehmat said. "The recent statistics are stark. Over 60 journalists have been killed in the last six years, about two-thirds of them shot dead in targeted killings and the rest in suicide attacks and bombings in public places."
Impunity is one grave challenge Ehsanullah Khan is taking on. This tribesman, who comes from North Waziristan—a tribal district along the country's border with Afghanistan—is the brother of 30-year-old tribal journalist Hayatullah Khan, whose fate was similar to Abdul Razik Baluch.
Against norms in Pakistan, Hayatullah's case was investigated by a judge of the Peshawar High Court after the journalist community took to the streets in protest. However, the findings have not yet been made public since the report's completion in 2006. "We are waiting for the day when the judge's findings see the light of day," said Ehsanullah, who looks after Hayatullah's four orphaned children.
While journalists continue to fall victim, a ray of hope lies with the United Nations recent decision to name Pakistan as one of five pilot countries to experiment with the United Nations Plan of Action on the Safety of Journalists and the Issue of Impunity. (The other four are Nepal, Iraq, South Sudan and Mexico.) The Plan provides a platform to work together with all media stakeholders, including the government, to address issues of impunity that threaten press freedom, freedom of expression and media workers' safety.
The first step has been setting up a working group, the Pakistan Coalition on Media Safety (PCOMS). The second and most important step – the Steering Committee of PCOMS –will come later this month when media owners, journalists representative bodies, civil society members, government ministers, parliamentarians and lawyers set the agenda for the next two years.
Adnan Rehmat pins great hopes on PCOMS: "The UN Plan of Action not only identifies measures and mechanisms by means of which this fight can be fought along organized lines but also offers detailed Journalists Safety Indicators (JSI), which allow for a detailed mapping of the state of impunity and several proposed actions, measures and alliances."
Pakistan may have PCOMS as a viable and last chance to fight impunity of crimes against media and democracy. But it may not be meaningful in Pakistan if freedom of the press is not protected by all stakeholders – and especially if the State does not have the willingness to make it happen.