When The War Comes Home
When Patrick Howse returned to London after a seven year tour of duty in and out of Baghdad as the BBC's bureau chief, a seemingly ordinary incident on the Central Line tube took him back to the war, and triggered the onset of PTSD. It also changed his life.
(The painting image below, "PTSD Patrick," by Inge Schlaile.)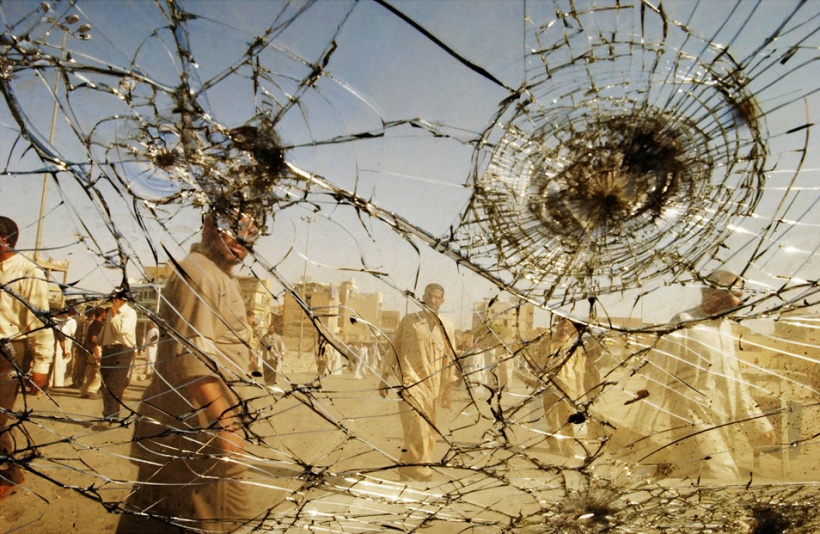 I had been covering the war in Iraq for seven years, but I had no practical understanding of what post-traumatic stress disorder actually was. That changed when I returned in early 2010. I was travelling in a packed tube carriage on London's Central Line. I was covering an inquiry into the UK's decision to go to war. Someone wiped the steamed up window with the sleeve of her coat and the shape that she left was to me a map of Baghdad—a place I could see and smell burning, and hear screams.
In broad daylight, in a completely normal London situation, my brain had taken me back to the city where I did ten grueling month-long tours of duty between 2003 and 2009. As one of a small group of producers acting as the Baghdad Bureau Chief for the BBC, I had been responsible for coverage of many of the most horrifying events of the war.
Somehow London, and the investigation into the causes and conduct of the war was the trigger. It was such a distinct moment, seeing that shape form on the glass. It is one I have found myself returning to in the poetry I write, in an attempt to convey the horror and revulsion—and also the excitement and thrill—of working in Baghdad.
Our lives were constantly in danger: On one stint I heard (and counted) 140 explosions, some of them at least close enough to rattle windows and bring down dust from the ceiling. There was also constant guilt, as a result of deciding not to go to the scene of a bombing for fear of a second explosion targeting responders, or directing a cameraman covering a suicide bombing to avoid images of body parts that would never make the TV news.
On more than one occasion, footage we shot wasn't used because 'there were not enough deaths.'