Panel: Hannah Arendt's Disruptive Truth-Telling
October 3, 2013
Columbia University Graduate School of Journalism - World Room
116th Street and Broadway
New York, NY, 10027, United States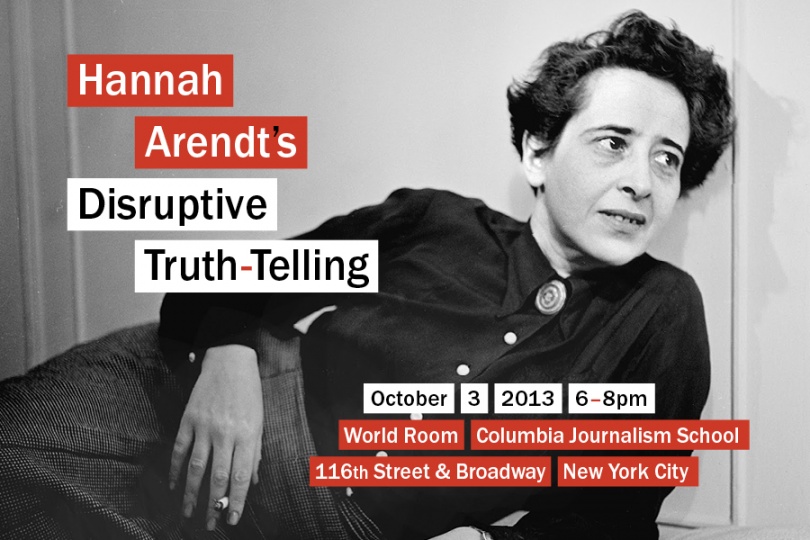 Coming soon: event recap and full video coverage. 
Speaker Bios:

Susan Neiman is a moral philosopher with an interest in exploring the persistence of Enlightenment thought and reinterpreting past thinkers for contemporary contexts. She is Director of the Einstein Forum, having previously taught at Yale University and Tel Aviv University. The Wall Street Journal called her 2008 Moral Clarity: A Guide for Grown-Up Idealists "an argument for re-engaging with the moral vocabulary of the country." Her 2002 work, Evil in Modern Thought: An Alternative History of Philosophy, explains philosophy's quest, touching on Kant, among others, as one perpetually in search of a perfect understanding of evil. Born in Atlanta, Neiman received her doctorate degree from Harvard University.
Tina Rosenberg is co-writer of the New York Times Fixes column and author, most recently, of Join the Club: How Peer Pressure Can Transform the World. For ten years she was a member of the New York Times editorial board writing editorials on foreign affairs. She is a contributing writer to the Times Sunday magazine. She has written two other books: Children of Cain: Violence and the Violent in Latin America, and The Haunted Land: Facing Europe's Ghosts After Communism, which won the Pulitzer Prize and the National Book Award.

Bruce Shapiro is the executive director of the Dart Center for Journalism and Trauma, encouraging innovative reporting on violence, conflict and tragedy worldwide from the Center's headquarters at Columbia University in New York City. An award-winning reporter on human rights, criminal justice and politics, Shapiro is a contributing editor at The Nation and U.S. correspondent for Late Night Live on the Australian Broadcasting Corporation's Radio Nation.
As an investigative journalist and commentator Shapiro has covered terrain ranging from inner-city neighborhoods to the chambers of the U.S. Supreme Court for The Nation, BBC, CNN, Fox News and NPR. Beginning in the mid-1990s Shapiro began extensive reporting on crime victims and American society, and documented the intersection of politics and violence on issues ranging from capital punishment to combat trauma. He was national correspondent for Salon.com, and wrote for the New York Times Magazine, the Los Angeles Times, the Guardian and numerous other publications worldwide.
* * *
Praise for Eichmann in Jerusalem:
"Brilliant and disturbing."
– Stephen Spender, The New York Review of Books
"Profound…This book is bound to stir our minds and trouble our consciences."
– Chicago Tribune
"Deals with the greatest problem of our time…the problem of the human being within a modern totalitarian system."
– Bruno Bettleheim, The New Republic
* * *
This event is free and open to the public. RSVP to [email protected]