Für eine konfliktsensitive Berichterstattung
June 5, 2008
Ein Bericht über das Deutsche Welle Global Media Forum zu "Medien, Friedensstiftung und Konfliktprävention."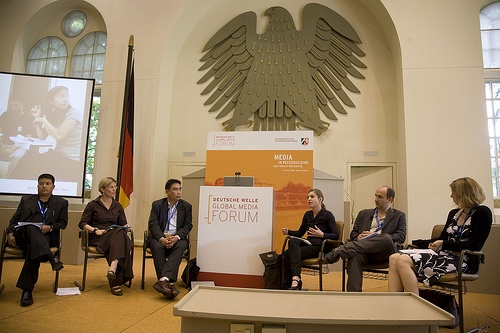 International Global Media Forum zu "Medien, Friedensstiftung und Konfliktprävention"
5. Juni 2008

Gavin Rees, Koordinator des Dart Centre Europe mit Sitz in London, berichtete in seiner Keynote speech im Rahmen der Fachveranstaltung "Journalistische Ausbildung in Konfliktregionen" über die Notwendigkeit des sorgfältigen journalistischen Umgangs mit Betroffenen. Medien hätten eine besondere Verantwortung bei der sensiblen Berichterstattung über Vergangenheitsbewältigung und dem Umgang mit Zeitzeugen und Opfern. Rees ist selbst Journalist und arbeitete u.a. als Filmautor für die BBC und Channel 4 und an Dokumentationen über die Überlebenden von Hiroshima.

Als positives Beispiele berichtete der heutige Dart Europe Koordinator von der erfolgreichen Kooperation mit der Deutschen Welle Akademie in Kambodscha. In diesem Training wurden Ende 2007 lokale Journalisten im Rahmen der aktuellen Gerichtsprozesse über das Schreckensregime der Khmer Rouge darauf vorbereitet, über die Situation, Überlebende, über Opfer und Täter zu berichten.
Lesen Sie hier die komplette Dokumentation
WACHSENDE GEFAHREN - KRIMINALITÄT IM EIGENEN LAND

In dem spannenden Workshop "Covering Hostile Environments. From conflict zones to organised crime", berichtete Rupert Reid, Sicherheitsexperte und Mitglied des Dart Europe Beirates, über die Risiken von Journalisten, wenn sie über kriminelle Organisationen recherchieren.

Cheche Lazaro (links), Frank Smyth (2.v.l), Rupert Reid (3.v.rechts)

Gefahren, die tödlich enden können, wie sie Marcelo Moreira, Nachrichtenchef des brasilianischen Senders Globo TV, anhand von Reportagen seines Senders aufzeigte. Sein Kollege wurde nach einem Bericht über den täglichen illegalen Waffen- und Drogenmissbrauch erschossen. "Und fast jeder bei uns muss darüber regelmäßig berichten," so Moreira. Cheche Lazaro, international bekannte philippinische Journalistin, veranschaulichte die alarmierende Entwicklung in ihrem Land. Unter der Regierung von Präsident Arroyo starben bereits 33 Journalisten, die über lokale Korruption berichteten, Hauptverdächtige: vor allem Regierungsangehörige. Stefano Marcelli, Präsident der Organisation "Information and Freedom" in Italien und TV-Journalist, warnte vor der zunehmenden Korruption und den mafiösen Strukturen auch in den westeuropäischen Ländern und die damit verbundenen Risiken: "Journalisten und Medienunternehmen müssen sich dessen bewusst werden. Und wenn wir nicht gemeinsam dagegen stehen, werden mehr Journalisten sterben", appellierte der erfahrene Journalist.
KONFLIKTZONEN, GEFARHEN UND SINNVOLLE TRAININGS

Unumstritten ist die Tatsache, dass immer mehr Journalisten in der Ausübung ihres Berufes sterben, ob Afghanistan, Irak oder andere Krisenländer: die Notwendigkeit nach relevanten Trainings ist groß. Das sie Leben retten könne, zeigte Andrew Kain, Initiator der ersten Sicherheitstrainings für Journalisten weltweit und Gründer der Sicherheitsfirma AKE. Der Fachmann zeigte auf dem Panel spektakuläre Filmausschnitte, in dem ein schwedisches Kamerateam Ende 2007 in Zaire unter Beschuss gerät und der Kameramann verletzt wird. Dennoch filmt dieser mit, wie ihn die Kollegen vor Ort notdürftig verarzten und wie sie sich letztlich aus dem Kugelhagel retten können. "Ohne das Sicherheitstraining, das diese Journalisten kurz vorher bei uns absolviert haben, wäre dieser Mann jetzt tot", so Kain.

Sandra Petersmann, Auslandskorrespondentin der Deutschen Welle, absolvierte so ein Training, auch sie geriet in Afghanistan, das sie seit 1993 kennt, in gefährliche Situationen. "Als "Kriegsreporterin" sehe ich mich nicht", so Petersmann, "mir sind die die Geschichten der Menschen in dem Land wichtig". Und darüber könne man nicht unbedingt in der Begleitung von Streitkräften wie der Bundeswehr berichten.

Frank Smyth vom Committee to Protect Journalists (CPJ), Moderator und Co-Organisator des Panels, kritisierte die oftmals zynische und gängige Praxis von Redaktionen, Journalisten keine Versicherung bezahlen zu wollen, dennoch aber gerne Berichte einkaufen, wenn diese dann "wieder lebendig" zurückkehren. Ein Problem, das Sarah de Jong vom International News Safety Institute (INSI) nur zu gut kennt: "Auslandsredaktionen meinen, sie müssten um jeden Preis wirtschaftliche Erfolge erzielen, das ist eine Gefahr. Jede Redaktion sollte Sicherheitsrichtlinien implementieren."
Building Networks: Von links: Petra Tabeling (Dart Center), Martin Zint (Pejocon) und Adelheid Feilcke-Thiemann (DW-Intendanz)