Dart Asia Pacific ASPAC Fellows 2023
May 3, 2023
Dart Centre Asia Pacific (DCAP) has announced the recipients of the 2023 Asia Pacific (ASPAC) Fellowship, a program that deepens journalists' reporting of violence, conflict, and tragedy.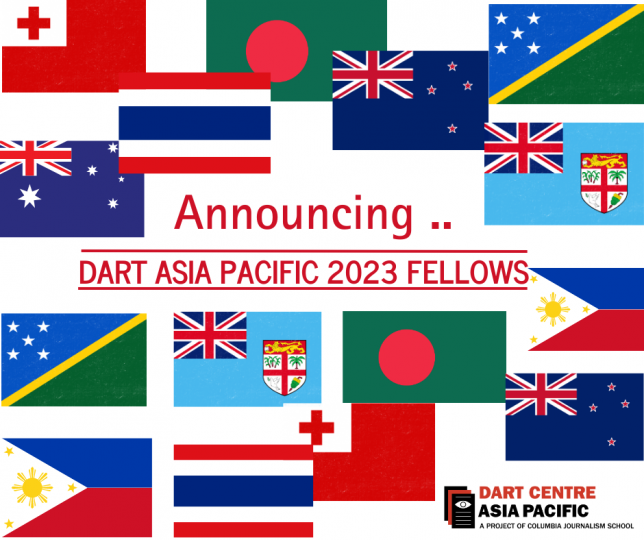 Dart Centre Asia Pacific (DCAP) has announced the recipients of the 2023 Asia Pacific (ASPAC) Fellowship, a program that deepens journalists' reporting of violence, conflict, and tragedy. This year's Fellows include outstanding senior and mid-career journalists in all media from across the Asia Pacific region with a particular interest in covering climate change and climate-related disasters.
"This year's ASPAC Fellows represent a passionate generation of journalists who came of age committed to deep engagement with trauma and to reporting on how climate change has impacted their communities," said DCAP CEO Erin Smith. "We are excited to welcome this year's Fellows to Brisbane this May, joining our previous ASPAC Fellows who continue to set the global standard for innovative, ethical reporting on trauma, violence, and disaster."
Through seminars and discussions with leading experts and journalism practitioners, the ASPAC Fellowship program offers journalists a unique opportunity to explore the many dimensions of psychological trauma; to discuss ethical and craft challenges raised by their work; and to forge relationships with colleagues from around the world who share their interests and commitment.
The 2023 Dart Centre Asia Pacific (ASPAC) Fellows are:
Anasiu Falekaono - Acting News Editor, Tonga Broadcasting Commission: Anasiu has been working as a journalist with the Tonga Broadcasting Commission for more than a decade. Currently Acting News Editor, she also anchors the English and Tongan news bulletin for radio and television.
Lilliani Polutele - Senior News Reporter, Tonga Broadcasting Commission: Lilliani has been working as a journalist in Tonga for more than 5 years with a current focus on Court reporting.
Irwin Angiki - Editor (Acting) Island Sun Newspaper, Solomon Islands: Irwin graduated from the University of South Pacific in 2009 with a BioChemistry degree before switching careers in 2015 to journalism. He joined the Island Sun Newspaper in April 2015 as Sub-Editor English/ Junior Reporter. Irwin is currently Acting Editor, reporting on a wide range of sectors including environment, climate change, politics and geopolitics, natural hazards and disasters, persons with disability, court and civil cases, indigenous and landowner rights issues and anti-corruption.
Charley Piringi, Environmental and Investigative Journalist: Charley currently contributes as an investigative journalist to In-depth Solomons in Honiara, an organisation dedicated to investigative journalism in the Solomon Islands. He is also a Climate Change and Environmental Blogger. His blog site, Tideline Solomons, is a site dedicated to blog and write news about climate change and its adverse impacts in the Solomon Islands.
Vinafel Pilapil - News head, People's Television Network, Davao, Philippines: Vinafel has 15 years' experience working in the broadcast industry, particularly in ABS-CBN Regional as news reporter and later desk editor. She is currently the news head of People's Television Network Incorporated-Mindanao.  She was the first correspondent who arrived in New Bataan, Compostela Valley, now Davao de Oro, during the flash flooding in the area in 2012 when typhoon Pablo (international name Bopha) hit Mindanao. In 2019 she covered the series of earthquakes in the Davao Region.
Golam Mourtoza - Head of News and Multimedia, Radio Padma and PadmaNews24.Com, Bangladesh: Golam is a Bangladeshi multimedia journalist and media activist who started reporting on environment and climate change issues in 2008 when cyclone 'Sydor' hit the coastal areas of Bangladesh and he prepared a series of reports on the helpless and vulnerable people including young girls and women affected by the cyclone, and also reported on cyclone 'Aila' in 2009. Reports from both cyclones were published in' The Daily Sunshine'.
Iva Nataro - Investigative Journalist, Fiji Sun News Ltd: Iva is currently Fiji Sun's lead investigative journalist writing in-depth weekly pieces for the Fiji Sun, Iva has also worked for the paper as a Sub Editor. 
Jitsiree Thongnoi - Freelance Journalist, Thailand: Jitsiree is a Thai freelance journalist. She covers Thailand's politics, economy and society and has published in the South China Morning Post, the Straits Times, the Bangkok Post, BBC Thai and Fair Planet.
Inoke Rabonu - Senior Journalist, Fiji Sun News Ltd: During his time as a senior journalist with the Fiji Sun, Inoke has worked as Deputy Publications Editor, Business Journalist, Senior News Journalist and held an acting position as Deputy Managing Editor, News. His recent areas of work have included Health, being one of the frontline reporters in Fiji during the course of the COVID-19 pandemic that wreaked havoc on Fiji's health system and economy.
Stefan Armbruster - Correspondent, SBS World News - Stefan Armbruster is an award-winning correspondent for Australian public broadcaster SBS World News and reports on national and Pacific affairs. He is an industry fellow with Griffith University's Pacific Hub, a journalist trainer and a federal delegate with the MEAA journalist's union.