Must-see Docs at Human Rights Watch Film Festival in New York
May 30, 2017
Purchase Tickets
The Dart Center is co-sponsoring the New York City premieres of two inspiring documentaries, Nowhere to Hide and City of Ghosts, at this year's Human Rights Watch Film Festival.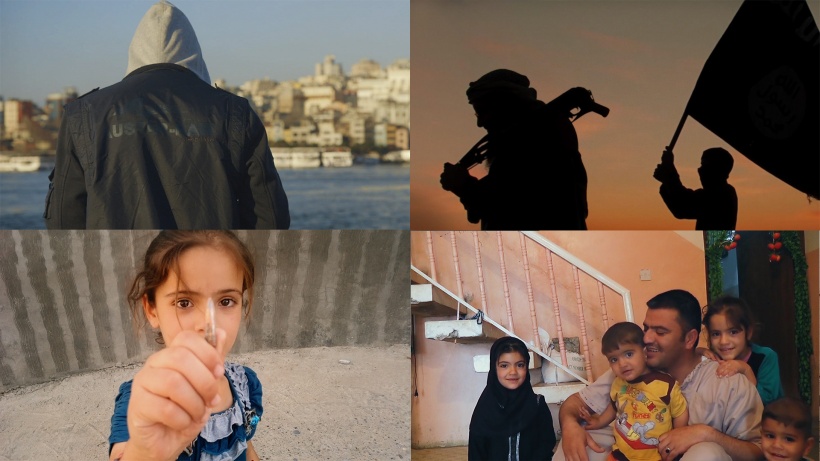 Nowhere to Hide is an immersive and uncompromising first-hand reflection of the resilience and fortitude of a male nurse working and raising his children in Jalawla, Iraq, an increasingly dangerous and inaccessible part of the world. Immediately after US troops left Iraq in 2011, director Zaradasht Ahmed gave Nori Sharif a camera and taught him how to use it, asking him to capture the reality of life in his community and the hospital where he worked. For the next five years Nori filmed life around him, but the population— including the majority of the hospital staff—flees when the Iraqi army pulls out in 2013 because of militant activity. Sharif is one of the few who remain. When the militias and the Islamic State advance on Jalawla in 2014 and finally take over the city, Sharif continues to film. However, he now faces a vital decision: stay and dedicate himself to treating those he vowed to help, or leave and protect his family—in the process becoming one of thousands of internally displaced people in Iraq.
Following the screening, filmmaker Zaradasht Ahmed will join producer & editor Mette Cheng Munthe-Kaas, Human Rights Watch senior Iraqi researcher Belkis Wille, and HRW's Middle East and North Africa Executive Director Sarah Leah Whitson for a discussion. Q&A presented in association with The Committee to Protect Journalists.
Film Society of Lincoln Center's Walter Reade Theater: Friday June 9, 6:30pm | Invite friends
"It's difficult to diagnose this war. It's an undiagnosed war. You only see the symptoms - the killing, displacements, blood baths. But you don't understand the disease." - Nori Sharif, film subject, Nowhere to Hide
With deeply personal access, this is the untold story of a brave group of citizen journalists forced to live undercover, on the run, and in exile—risking their lives to stand up against one of the most violent movements in the world today. From the Academy Award-nominated director of Cartel Land, City of Ghosts follows the efforts of anonymous activists in Syria who banded together to form a group named "Raqqa Is Being Slaughtered Silently" (RBSS) after their homeland was taken over by the Islamic State (ISIS) in 2014. Finding safety is no easy task either, as growing anti-refugee sentiment in Europe greets them with anger and rejection and ISIS pledges to target them wherever they go. Terror, trauma, and guilt similarly follow the men at the center of the film, having left loved ones behind to expose the horrors happening in their town. The strength and brotherhood that bonds the men is clear: the film is full of affecting intimacy and humanity in a situation where little else can be found.
The screening will be followed by a discussion with filmmaker Matthew Heineman and special guests, moderated by Sarah Leah Whitson, Middle East and North Africa Executive Director at Human Rights Watch.
Q&A presented in association with The Rory Peck Trust, Arab British Centre, Hot Docs Canadian International Documentary Festival and Doctors without Borders.
Film Society of Lincoln Center's Walter Reade Theater: Tuesday June 13, 6:30pm | Invite friends
"This film reconnects us to the human toll inflicted by the war in Syria, through the personal journeys of young citizen journalists who are driven from their homes but remain tethered to the country's struggle for freedom and justice." —Sarah Leah Whitson, executive director, Middle East and North Africa Division, Human Rights Watch