Pioneering Leader in Trauma Journalism Set to Retire
July 15, 2021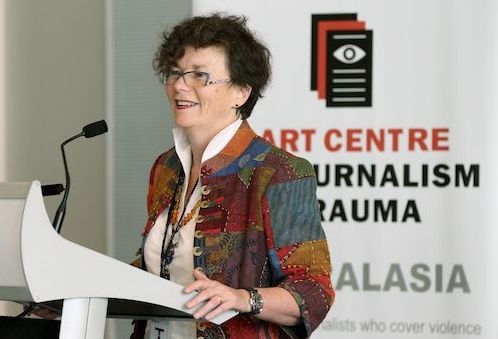 Trauma expert Dr. Cait McMahon, OAM, will retire from her role as Dart Centre Asia Pacific Managing Director later this year, following a 30-year career helping media workers better understand the impact of trauma on themselves and on those they report on.
McMahon, a trained psychologist, founded the Asia Pacific branch of the Dart Center for Journalism and Trauma in 2003. Since then, she has provided advice and support to newsrooms and journalists in Australia and across the globe, while also undertaking significant research in the field. 
What began three decades ago as a fascination with the emotional rollercoaster that media employees faced on a daily basis, turned into a life-long mission to address its impact on mental health. 
"I am retiring as Managing Director feeling extremely proud of what I have been able to achieve with the support, guidance and leadership of our various boards, advisors, members, collaborators, and supporters," McMahon told colleagues. 
McMahon and her team have helped thousands of news reporters, photographers, editors and others in the media cope with the difficult issues they face in the line of duty. She has championed a trauma-informed approach in the media. 
"Cait has done so much to further our understanding of trauma within ourselves and those we interview," said Dart Centre Asia-Pacific Chair and veteran journalist Karen Percy. "In every way Cait is a world leader in this field – through her research, her work in newsrooms and her clinical expertise. Media workers around the world have benefited from her passion and her skill."
Dart Center Executive Director, Bruce Shapiro, who has worked closely alongside McMahon, described her work as "foundational and global." 
"As journalists around the world support one another through this extraordinary and challenging period, they are using language, tools and strategies which Cait pioneered," he said. "In that sense her work nourishes not just journalism but democracy itself." 
In 2016 McMahon was awarded an Order of Australia Medal for her work.. 
McMahon lists working in challenging places like Cambodia, the Philippines and Bangladesh as highlights of her career, as well as her work assisting First Nations journalists in Australia. 
"I am proud to have worked alongside Cait to build understanding of the different and complex experiences of First Nations journalists who are exposed to trauma – an area which is lacking in research globally," said Dart Centre Asia-Pacific Director and Warlpiri journalist Rachael Hocking. "In her work with First Nations people, Cait has demonstrated her genuine commitment to our self-determination." 
McMahon will step down from the Managing Director role in December. She will remain on the board as a non-executive director to assist in the transition process and will also be available to consult as needed.
"We look forward to building on Cait's legacy with a strategy to grow the organisation and its work, particularly in areas of increasing need following the devastation of COVID-19 across the Asia-Pacific, as well as the ever-escalating threats to journalists, journalism and press freedom," said Dart Centre Asia-Pacific Deputy Director Kimina Lyal. 
The Dart Centre Asia-Pacific Board will soon begin the search for a replacement, and will update key stakeholders throughout the Asia Pacific as the transition progresses.