U ime mrtvih
July 7, 2010
Glumica Zana Marjanović, koja tumači Almu, glavni lik u nagrađivanom filmu "Snijeg", govori o tome kako je bilo igrati ucveljenu udovicu u mestu gde još nisu sahranjeni svi mrtvi. I još važnije, kako je bilo raditi u selima gde proces isceljenja od ratnih trauma nije završen.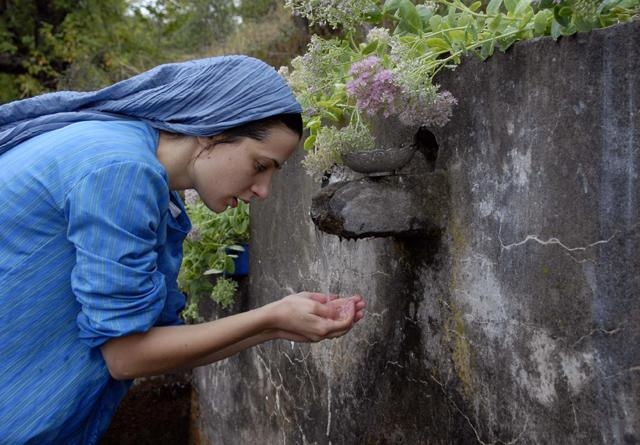 Zamislite bosansko selo 1997. godine. Muškaraca nema, pretpostavlja se da su mrtvi, pošto su silom odvedeni u šumu. Preživeli su samo jedan penzioner, zato što je ocenjeno da je prestar da bi imao potomstvo, i jedan dečak za koga se verovalo da je devojčica jer je imao predugačku kosu. Preživele žene su u nedoumici: bez ikakvog prihoda i tela koje bi sahranile, one ne znaju šta ih čeka u budućnosti. To je ukratko okvir u kome se odvija radnja "Snijega", filma nagrađenog "Gran prijem" u selekciji Međunarodne nedelje kritike na Kanskom festivalu 2008.
Mada je Slavno izmišljeno selo, snimanje se odvijalo u stvarnom mestu sa sličnim sudbinama. Premda niko ne može i ne treba da tvrdi da su gluma i izveštavanje dve iste radnje, iskustvo glumaca koji su radili u tom selu baca svetlost na to šta se zapravo dešava kada se novinari i tvorci dokumentaraca stave u situaciju preživelih kako bi rekonstruisali potresne događaje.
Za vreme boravka u Londonu na filmskom festivalu, Zana Marjanović, koja tumači Almu, glavni lik u filmu, govorila je za Dart centar o tome kako je bilo igrati ucveljenu udovicu u mestu gde još nisu sahranjeni svi mrtvi.
Pozadina Gubitka
Da bi što bolje spremila ulogu, Zana je živela u sredini iz koje su 10 godina ranije žene pobegle u šumu, dok su muškarci ostali u selu. "Kada ih pitate da vam kažu nešto o muževima koje su izgubile, dočekuje vas samo tišina", objašnjava Zana. "Ta tišina je tako glasna i moćna da se više ne usuđujete da ih o tome ponovo pitate, osim ako same ne progovore. Samo par reči i to je sve… To se oseća u njihovom prisustvu."
Režiserka Aida Begić je odlučila da joj upravo taj neizrecivi osećaj gubitka, koji je još uvek prisutan u mnogim sredinama u bivšoj Jugoslaviji, posluži kao okosnica za scenario.
Ćutanje ipak nije glavna odlika ovog ostvarenja. I zaista, žene su prilično bučne. One kuju planove, svađaju se i šale, dok svakodnevno brinu o deci i ulažu velike napore kako bi otpočele zlosrećni biznis pravljenja i prodaje pekmeza od šljiva. Njima jednostavno nedostaju reči kojima bi opisale svoju tugu.
Sabrina (Jelena Kordić), na primer, nalazi utehu u jednoličnom ritmu modernog eurobita. To je podseća na romansu sa holandskim kamiondžijom, koji je otišao, ali ga ona još uvek potajno očekuje. Zadirkivanje kome je izložena zbog muzičkog ukusa i još sumnjivijeg smisla za oblačenje obezbeđuje preko potrebne vedrije tonove u odnosu na ozbiljnu i tešku okosnicu priče.
Kako Je Bilo Postati Alma
Alma je borac. Kao pobožna muslimanka i asketa, ona potiskuje svoju tugu i uspeva da krene dalje ulažući svu energiju u to da usmeri svoje komšije, uglavnom starije od nje, ka kakvoj-takvoj budućnosti.
Zanino iskustvo van platna sasvim je drugačije. Ona je slika i prilika moderne, sekularne, urbane devojke. Osetila je rat ali se školovala u inostranstvu - pohađala je gimnaziju u Njujorku.
Da bi postala Alma bila joj je potrebna pomoć. Živela je na selu, išla u džamiju i proučavala pokrete i ponašanje članova svoje bosanske porodice. Trebalo joj je vremena da ih nagovori da joj dozvole da radi zajedno sa njima, ali je na kraju ipak u tome uspela.
"Bilo im je teško da me prihvate ili mi daju neke poslove, ali su se na kraju složili da ako spavam u njihovoj kući i jedem njihovu hranu, moram i da radim." Ta pažnja prema detaljima urodila je plodom na platnu, ali je isto tako neobično uticala na njen odnos sa kolegama.
Kroz Ogledalo
Ekipa je stigla u selo nedelju dana posle nje. "Bili su nekako uzdržani. Ja sam sa njima bila vrlo srdačna, što nije čudno jer me poznaju od moje osamnaeste godine, kad sam igrala u svom prvom filmu." Ali, na njeno iznenađenje, "nije bilo grljenja, niti ljubljenja; nisu se sa mnom čak ni rukovali", seća se ona.
"U suštini ne možete da se rukujete sa ženom pod velom", objašnjava ona. Igrajući Almu, zakoračila je u ogledalo i prešla na njegovu drugu stranu.
"Kada je snimanje počelo, neko je spomenuo da me video dok sam prelazila most, a ja sam upitala zašto mi se nije javio. Odgovor je glasio: 'Ne znam, delovala si vrlo čudno, bila si udubljena u misli.'"
I ostale glumice su imale utisak da se drugi prema njima ponašaju kao prema likovima koje su igrale na platnu. Oslovljavali su ih njihovim filmskim imenima. To se nije dešavalo samo između dva kadra ili na pauzi za ručak. To se dešavalo i posle snimanja, uveče za vreme večere ili u prolazu u hodniku hotela.
Snimanje u selu sličnom onome gde se sve zaista dešavalo, iako deset godina kasnije, to jest 2007, bilo je teško.
Većina članova ekipe nameravala je da ostane u filmskom selu nedeljom, kada su imali jedini slobodan dan. Međutim, već trećeg vikenda, masovno su krenuli za Sarajevo uprkos tročasovnoj vožnji vijugavim i loše održavanim putem. "Na mene je atmosfera uticala mnogo više nego što sam očekivala", priča Zana
Rekonstrukcija
Film se završava optimistički. Dolazak dvojice gramzivih građevinskih preduzetnika ubrzava rasplet, koji omogućava ženama da sebi stvore psihološki podnošljiv prostor za život. Počinje nova gradnja i čak se rađaju nove ljubavi.
Režiser Aida Begić je izjavila: "Ako zamislite potpuno razrušeno selo prepuno prelepog cveća, zrelog voća i čiste vode, shvatićete suštinu poezije, koja se svodi na to da je izgradnja mnogo moćnija od razaranja."
Zana Marjanović se pita da li je bilo lakše pronaći razlog za optimizam 1997. nego danas. Da je radnja filma smeštena u 2007, kaže ona, mnogo toga ne bi bilo drugačije, osim kraja. "Jer, prošlo je 10 godina i ništa se nije promenilo. Mi trenutno ništa ne gradimo, ni na čemu ne radimo. Ranije smo trčali u krug, a sada samo stojimo u mestu… Trenutno smo u zaista teškom položaju."
Iako je film dobio nekoliko međunarodnih priznanja, nije tako jednodušno prihvaćen kod kuće. To je umetnički film – i stoga je malo verovatno da će ikada dobro proći na blagajnama – ali je to isto tako ostvarenje koje budi duhove. Mnogi ljudi iz bosanskog društva nisu spremni da pogledaju bliskoj prošlosti u oči. Čak se i neki Zanini prijatelji pitaju zašto film mora da istražuje posledice rata. I novinari širom Balkana primećuju da članci o raseljenim ljudima i istraživanje nerešenih ubistava loše utiču na tiraž.
Zana se nada da gledaoci neće ostati ravnodušni prema pitanjima obrađenim u filmu i da će pokazati spremnost da zamisle sebe na Alminom mestu. Ona ne veruje da prošlost može i treba tako čvrsto da se zapečati i zaboravi.
Dolazak građevinskih preduzetnika u selo pokazuje kako novac danas služi kao sredstvo za raseljavanje siromašnih seljana. Za vreme susreta sa gledaocima posle jedne bioskopske predstave, žena koja je izgubila sve muške rođake u masakru u Srebrenici jula 1995, ustala je i rekla: "Hvala Vam što ste nam omogućili da postojimo, jer ljudi su zaboravili da postojimo."
Prevod sa engleskog: Jasna Stojković
Gavin Rees, novinar i filmski radnik, direktor je Dart centra u Evropi. Smešten u Londonu, zadužen je za koordinaciju aktivnosti Dart centra širom kontinenta. Poslednjih 13 godina radio je u različitim medijima, na televiziji i radiju, pripremao političke i poslovne vesti za "Financial Times" televiziju i CNBC kao i za japansku mrežu. Takođe je radio i na dramskom i dokumentarnom programu za BBC, Kanal 4 i druge kompanije i nezavisne produkcije.