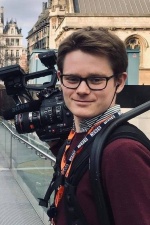 Edward Lawrence is a video journalist for the BBC News Shanghai Bureau.
Recent Posts by Edward Lawrence
Edward Lawrence has been covering the coronavirus story on the ground in China since January, including a trip onto China's frontline: Hubei province on lockdown. Here, he has outlined some of his thoughts on the challenges of reporting amid the pandemic, and the precautions that he and his team have been taking.