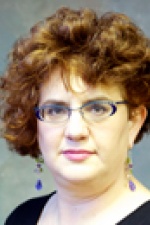 Elana Newman, McFarlin Professor of Psychology at the University of Tulsa, has conducted research on a variety of topics regarding the psychological and physical response to traumatic life events, assessment of PTSD in children and adults, journalism and trauma, and understanding the impact of participating in trauma-related research from the trauma survivor's perspective.
She is a past president of the International Society of Traumatic Stress Studies, the world's premier organization dedicated to trauma treatment, education, research, public policy concerns and theoretical formulation.  Her work in journalism and trauma has focused on occupational health of journalists and she and her students have several studies underway examining the effects of journalistic practice upon consumers.  She was the key investigator on the Dart Center's research survey on photojournalists' exposure to trauma. She co-directed the Dart Center for Journalism and Trauma's first satellite office in NYC after 9-11
Recent Posts by Elana Newman
The Dart Center surveyed 247 journalists around the world about the safety trainings they attended, the skills they acquired and the gaps between these trainings and their professional needs on the ground. This report, prepared by an interdisciplinary team of researchers in psychology, occupational safety and journalism practice, details the results. Scroll down for the executive summary and click here for the full report.

An overview of current research on the use of trigger warnings in broadcast news, the effectiveness of these warnings and suggestions for future research.

In the summer of 2016, in advance of a two-day conference commemorating the centennial of the Pulitzer Prize, Dart Center researchers interviewed 10 Pulitzer Prize winners from the past 20 years who were honored for their coverage of traumatic events or investigative reporting on trauma-related issues. Navigate through sections of this article to find pieces by: Alex Hannaford, who wrote on the relationship between Pulitzer winners and their sources, and on the impact of Charles Porter's 1996 Prize-winning photo; Elana Newman, who gathered advice from honorees on best practices in trauma reporting, and created teaching notes for the classroom with Matthew Ricketson and Autumn Slaughter; Matthew Ricketson, who also wrote a conference recap for those who could not be in attendance.