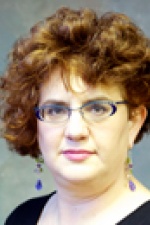 Elana Newman, Ph.D. is the McFarlin Professor of Psychology and Affiliate Faculty in Media Studies at the University of Tulsa; and Research Director of the Dart Center for Journalism and Trauma. Newman specializes in understanding and treating trauma-related conditions and training students and professionals from many professions about the skills they need to work effectively with people suffering from trauma-related problems. Newman's research in the field of traumatic stress has examined a wide range of topics including the physical and psychological effects of trauma exposure upon adults and children, health care costs and trauma, journalism and trauma, occupational health and trauma, research ethics in studying trauma survivors, correctional issues and trauma, and substance abuse and trauma. Newman's work in journalism and trauma focuses on the occupational health of journalists, including safety, harassment, educational needs, coping with trauma exposure, ethics, and the impact of trauma news on consumers.  She directs the creation of an online searchable database of articles related to journalism and trauma available at the Dart Center website. She also trains journalists on interviewing survivors, trauma-informed news management, covering traumatic events in local contexts including sexual violence on campus, self-care and occupational health, and general trauma information. Newman consults with journalists and documentary film makers about various ethical and professional trauma-related issues related to storytelling. Newman is a founding staff member of the Journalist Trauma Support Network to train qualified therapists to care for trauma-impacted journalists team members. She co-directed the Dart Center for Journalism and Trauma's' first satellite office in NYC after 9-11. Newman is a past president of the International Society for Traumatic Stress Studies.
Recent Posts by Elana Newman
Dr. Elana Newman, The Dart Center's Research Director, and Naseem S. Miller, Senior Health Editor for The Journalist's Resource, assembled a list of resources for coping with trauma as part of the Investigative Reporters and Editors Conference in June 2021. 

Which journalists should be studied? Under what conditions? Which research questions are well-settled, and what demands further study?

Designed for researchers familiar with basic psychometrics, this document aims to explain how to evaluate and use the Journalism Occupational Behavioral Checklist (JOB-CL) in research studies. 

What is online harassment? How prevalent is it? How can journalists effectively respond?