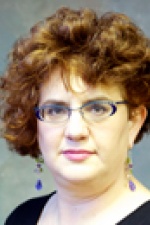 Elana Newman, McFarlin Professor of Psychology at the University of Tulsa, has conducted research on a variety of topics regarding the psychological and physical response to traumatic life events, assessment of PTSD in children and adults, journalism and trauma, and understanding the impact of participating in trauma-related research from the trauma survivor's perspective.
She is a past president of the International Society of Traumatic Stress Studies, the world's premier organization dedicated to trauma treatment, education, research, public policy concerns and theoretical formulation.  Her work in journalism and trauma has focused on occupational health of journalists and she and her students have several studies underway examining the effects of journalistic practice upon consumers.  She was the key investigator on the Dart Center's research survey on photojournalists' exposure to trauma. She co-directed the Dart Center for Journalism and Trauma's first satellite office in NYC after 9-11
Recent Posts by Elana Newman
Designed for researchers familiar with basic psychometrics, this document aims to explain how to evaluate and use the Journalism Occupational Behavioral Checklist (JOB-CL) in research studies. 

What is online harassment? How prevalent is it? How can journalists effectively respond?

Designed for researchers, this document aims to explain how to evaluate and use the Journalist Traumatic Exposure Scale in research studies. The language is simplified such to be useful to most beginning researchers who are familiar with basics in psychometric concepts, ANOVAs and regression analysis in research design.