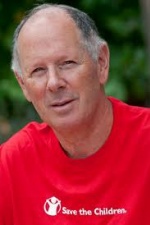 Gary Shaye has devoted more than 44 years to Save the Children's work with children, families and communities around the world. In September 2017, Gary led the organization's post-Hurricane Irma relief response in Florida in an emergency capacity and in April of 2018, he served as Team Leader in Puerto Rico for the response to Hurricane Maria.   In April and May of 2019, he served as Team Leader in Colombia for the response to the Venezuelan crisis.
From April 2010 to February 2012, Gary was the Country Director in Haiti – during the critical period following the devastating 2010 earthquake. Prior to his assignment in Haiti, Gary spent seven years as Director in Bolivia. Previous assignments included 14 years in the Connecticut headquarters where he served as Vice President for International Programs.
He previously spent six years in Nepal where he established Save the Children's country operations there and in neighboring Bhutan. His first assignment with the organization was in the Dominican Republic where he spent four years as the Country Director. Prior to joining Save the Children, Gary received his bachelor's degree from Cornell University, his Master's Degree from the School for International Training in Brattleboro, Vermont, and, following his graduation from Cornell, he served for two years as a Peace Corps volunteer in Cuzco, Peru. Gary is fluent in Spanish and speaks some Nepali.
Recent Posts by Gary Shaye