James F. Leckman
Neison Harris Professor of Child Psychiatry, Psychiatry, Psychology and Pediatrics Child Study Center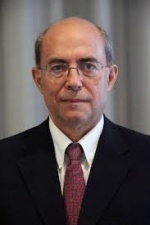 James Leckman is the Neison Harris Professor of Child Psychiatry, Psychiatry, Pediatrics and Psychology at Yale University. For more than 20 years, he served as the Director of Research for the Yale Child Study Center. His peers have regularly selected him as one of the Best Doctors in America. Dr. Leckman is the author or co-author of over 450 original scientific articles published in peer-reviewed journals.
He has a longstanding interest in Tourette syndrome and Obsessive-Compulsive Disorder (OCD). His research on these disorders is multifaceted from phenomenology and natural history to neurobiology to genetics, to risk factor research and treatment studies. A major focus has been on parenting and the role of the biobehavioral systems that closely interconnect our affiliative and stress response bio-behavioral systems. His research has included studies of oxytocin – the love hormone - in new parents as well as brain imaging studies of how new fathers and mothers respond to hearing their babies cry as well as how their brains respond when they are looking a pictures of their child. Currently he is also working with Dr. Ghassan Issa as part of project to assess the impact of a parenting program in the Palestinian refugee camps in Beirut, Lebanon and well as similar parenting project in a poor district of São Paul, Brazil.
In October 2013, he chaired with Rima Salah and Catherine Panter-Brick the 15th Ernst Strüngmann Forum in Frankfurt, Germany. More than 40 international scholars across diverse fields—from child development to neuroscience and cultural anthropology explored the relevance of early child development to the pursuit of peace. Their deliberations highlighting directions for future research, and proposing novel approaches to translate knowledge into concrete action are summarized in volume entitled, "Formative Childhoods: The Transformative Power of Children and Families", published by the Massachusetts Institute of Technology Press in 2014. He currently serves as a member of the Steering Committee of the Early Childhood Peace Consortium (ECPC). The mission of the ECPC is to create a legacy of sustained peace by drawing on the transformative power of early childhood development by building a global movement that values the role of young children and families as agents of change in peace building.
Dr Leckman has a B.A. from the College of Wooster, an M.D. from the University of New Mexico and a Ph.D. in Clinical Science from the University of São Paulo.
Recent Posts by James F. Leckman