Lisa Guernsey
Director of Early Education Initiative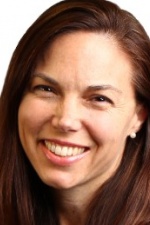 Lisa Guernsey is deputy director of the Education Policy program and director of the Learning Technologies project at the New America Foundation. She leads teams of writers and analysts to tell stories, translate research, examine policies, and generate ideas for new approaches to help disadvantaged students succeed.
Prior to her work at New America, Guernsey worked as a staff writer at The New York Times and The Chronicle of Higher Education, and has contributed to several other national publications, including The Atlantic, the Washington Post, Newsweek, Time, Slate, and USA Today. She is co-author with Michael H. Levine of "Tap, Click, Read: Growing Readers in a World of Screens" (Jossey-Bass, 2015) and author of "Screen Time: How Electronic Media – From Baby Videos to Educational Software – Affects Your Young Child" (Basic Books, 2012). She won a 2012 Eddie magazine gold award for a School Library Journal article on e-books and has served on several national advisory committees on early education, including the Institute of Medicine's Committee on the Science of Children Birth To Age Eight.
Guernsey holds a master's in English/American studies and a bachelor's degree in English from the University of Virginia. 
Recent Posts by Lisa Guernsey
Full video; "How Technology Affects Young Children: What We Know about Media's Impact on Cognitive Development and Behavior​"; March 11, 2017.