María Fernanda Espinosa Garcés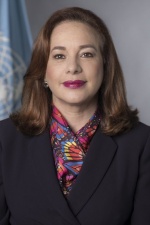 The President of the seventy-third session of the General Assembly, María Fernanda Espinosa Garcés has more than 20 years of multilateral experience in international negotiations, peace, security, defense, disarmament, human rights, indigenous peoples, gender equality, sustainable development, environment, biodiversity, climate change and multilateral cooperation. She has served Ecuador as Minister of Foreign Affairs (twice), Minister of National Defence, and Coordinating Minister of Natural and Cultural Heritage.
As Minister of National Defense of Ecuador, Ms. Espinosa Garcés participated in debates on women, peace and security, and promoted the creation of the South American Defense School of the Union of South American Nations, among other initiatives. Ms. Espinosa Garcés was Chair of the Group of 77 and China until January 2018, and also served as Chair of the Andean Community. In 2008, she was the first woman to become Permanent Representative of Ecuador to the UN in NY. She further went on to become Permanent Representative to the UN in Geneva Before beginning her political and diplomatic career, Ms. Espinosa was Associate Professor and Researcher at the Facultad Latinoamericana de Ciencias Sociales Sede Ecuador.
During her time in academia, she received scholarships and grants from the Latin American Studies Association, the Ford Foundation, the Society of Woman Geographers and the Rockefeller Foundation towards her research in the Amazon. She also received awards from the German Agency for Cooperation, Deutsche Gesellschaft fϋr Technische Zusammenarbeit (GTZ) and Natura Foundation for her research work. Ms. Espinosa Garcés has written over 30 academic articles about the Amazon region, culture, heritage, sustainable development, climate change, intellectual property, foreign policy, regional integration, defense and security. She has studies from Rutgers University. She holds a master's degree in social sciences and Amazonian studies and a postgraduate diploma in anthropology and political science from the Facultad Latinoamericana.
Recent Posts by María Fernanda Espinosa Garcés
President Espinosa, concluding her term as UNGA leader, reflected on the intertwined global crises of refugees and migration, climate change, and the resurgence of nationalism and what it means for the youngest children and their caregivers.