Michael Pfister
Zeit Online, Berlin Germany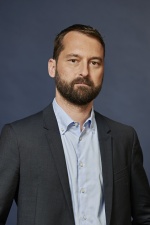 As Director of Photograpghy Pfister developed, implemented and redesigned the visual language of the news outlet ZEIT ONLINE.
As a frequent consultant, lecturer, curator and teacher he interacts with key decision makers as well as upcoming talents in the field of visual journalism and beyond. Mr. Pfister began his journalism career as a reporter for Swiss Radio DRS, while also working in print media. He then created and produced multimedia projects, round table discussions, festivals, conferences as well as working in culture management at the British Council, the Swiss Arts Council and Swiss Music Export, both domestically and internationally. At Lucerne-based Swiss journalism school, MAZ, Mr. Pfister studied photo editing before taking a photo editor position at the Zurich-based international media conglomerate, Ringier Verlag. Afterward, he transferred to Germany-based photojournalism agency, laif, where he worked with journalists and photographers across the globe including winners of the Pulitzer Prize and World Press Photo Awards. Later, as international photo editor with Bild am Sonntag, he commissioned work from reporters and photographers around the world for the newspaper. As part of the 6th Triennial of Photography Hamburg 2015 Micheal Pfister has selected six international photographers and invited them to share their vision of the medium's future as subjective image for the exhibition THE FUTURE'S NOT OURS TO SEE: Kalpesh Lathigra, Regine Petersen, Katja Stuke & Oliver Sieber, Niina Vatanen and Ramon Haindl.
Mr Pfister worked together with norwegian photographer Andrea Gjestvang on the internationaly awarded project/bookpublication/exibithion one-day-in-history. Pfister collaborated with a broad variety of international contemporary visual artists.
Recent Posts by Michael Pfister