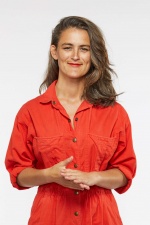 Sarah McVeigh is a journalist and producer from Australia, where she worked at the national youth broadcaster triple j & the Australian Broadcasting Corporation, before joining Gimlet in 2018. Sarah co-created Resistance with Saidu.
Recent Posts by Sarah McVeigh
May 6, 2021 by

Saidu Tejan Thomas

,

Sarah McVeigh

,

Bethel Habte

,

Salifu Sesay Mack

,

Aaron Randle

,

Lynn Levy

,

Lydia Polgreen

,

Brendan Klinkenberg

,

Bobby Lord

,

Catherine Anderson

,

Michelle Harris

This episode of the Resistance podcast tells the story of a nearly six-hour standoff between Derrick Ingram and the NYPD, and explores the harrowing relationship between the police and protestors, and the impact of trauma on those fighting for racial justice and police reform. The judging panel described the piece as "brilliant and revelatory storytelling," "at turns riveting, enraging, funny, and deeply moving." They called it "spectacular," and underscored the way it "depicts a kind of trauma -- menacing situations of indignity and harassment -- that far too many people of color in this country are familiar with." Originally published by Gimlet and Spotify on October 21, 2020.