William J. (Chip) Walter
Journalist, Author & Filmmaker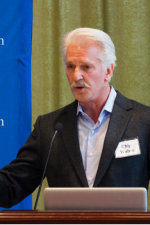 Chip Walter is an author, journalist, educator, filmmaker and former CNN bureau chief. He has authored four mainstream science books, the most recent of which is "Last Ape Standing: The Seven-Million-Year Story of How and Why We Survived". The New York Times Book Review called it "a lively journey… that takes an antic delight in the triumphal adaptations and terrifying near misses of human evolution." Last year the book was optioned by Discovery Communications and is currently being developed as a limited dramatic series.
Walter's writing has been featured in National Geographic magazine, The Economist, Slate, The Wall Street Journal, Scientific American and Scientific American Mind, among many others. He has been lucky enough to travel to six continents as a journalist and documentary filmmaker, from the Amazon Rain Forest and outback of Australia to the Serengeti and remote islands of the Pacific. His books have been translated into eight languages reaching readers from Kyoto to Rio de Janeiro, Madrid, Hong Kong and Seoul. His next book, "Cheating Death", will be published by National Geographic in 2018.
Walter has directed several award-winning science documentaries for PBS, wrote (and actually sold) screenplays in Hollywood, worked as National Programming Executive at WQED-TV, CEO of Digital Alchemy Inc., and Author in Residence at The Institute for Green Science at Carnegie Mellon University. He has also served as a faculty member at Carnegie Mellon in three separate schools: the Mellon Institute, the College of Humanities and Social Sciences and the School of Computer Science.
Recent Posts by William J. (Chip) Walter
Full video; "The Pillars of Science Journalism: Get Human & Don't Dumb Down the Facts"; March 10, 2017.