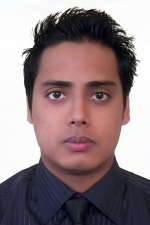 Arun Karki has been a video journalist at Nepal Television News for a decade. He is also the founder and executive director of the Center for Data Journalism Nepal (CDJN), a nonprofit media outlet that publishes data driven news stories online. Over the years, he has produced hundreds of reports on natural calamities and their impact on the public.
Karki has been awarded fellowships from the Thomson Reuters Foundation, The Asia-Pacific Broadcasting Union, Dart Centre Asia-Pacific, the Journalism Fund, SKUP and more. Karki holds a masters degree in Information and Communication Technology.
Recent Posts by Arun Karki
Nepali journalist Arun Karki shares techniques for building resiliency and reporting sensibly on trauma-related issues.

After a devastating earthquake upended Nepal in April, video journalist Arun Karki and his family were left homeless. Against his family's wishes, Karki headed straight to his office at Nepal Television News where, for the next few months, he scrubbed through thousands of hours of graphic footage, producing reports on the quake's aftermath. Karki shared his experiences with the Dart Center, and offered tips for journalists covering natural disasters around the globe.