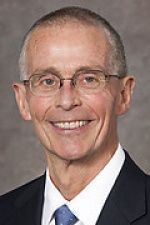 Garen J. Wintemute, MD, MPH, is Professor of Emergency Medicine, Director of the UC Davis Violence Prevention Research Program and the Inaugural Susan P. Baker-Stephen P. Teret Chair in Violence Prevention at UC Davis. Wintemute is a pioneer in the field of injury epidemiology and the prevention of firearm violence. In the 1980s, he was among the first to look at the problem of guns and violence as a public-health issue and emphasize the importance of prevention, even for clinicians. At that time, guns and the violence associated with them were considered as a mental-health or crime problem.
Wintemute is an emergency medicine physician at UC Davis Medical Center, one of the busiest trauma centers in the nation, but he also conducts innovative research to prevent people from ever becoming patients in an emergency department. He often employs personal courage in his pursuit of data and insights, working undercover at gun stores, gun shows and pawn shops to investigate how illegal sales are made.
His longstanding commitment to understand the nature of firearm violence and its underlying causes has produced a uniquely rich and informative body of research on firearm violence that directly improves the health and safety of Americans and that has positioned California — and UC Davis — as national leaders in efforts to break the cycle of gun violence. He has testified before Congress, the California Legislature and various local governments and has served as a consultant for the National Institute of Justice; the Bureau of Alcohol, Tobacco and Firearms; and the Centers for Disease Control and Prevention.
Recent Posts by Garen J. Wintemute
Full video, transcript and powerpoint presentation; "Guns and Gun Violence: Through a Public Health Lens"; May 29, 2015.