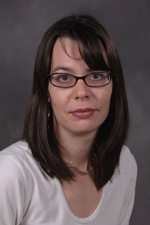 Joanna Dreby is Assistant Professor of Sociology at the University at Albany, State University of New York and received her PhD from the CUNY Graduate Center in 2007. She is author of the book Divided by Borders: Mexican Migrants and their Children (University of California Press 2010), which is the recipient of the Goode Book Award and the Thomas and Znaniecki Best Book Award from the American Sociological Association (Family Section) (2011) and also the 2011 Book Award from the Association for Humanist Sociology (International Migration Section). The book is based on a four year ethnographic study that draws on fieldwork and interviews with over 140 members of Mexican transnational families including migrant parents in Central New Jersey and children in the Mixteca region of Oaxaca and children's caregivers. It explores how family separation during international migration, and the sacrifices such separations entail, affect the relationships between family members.
Dreby is an ethnographer of family life, whose research focuses on the ways migratory patterns and families' decisions about work and child care affect children. Her current research, funded by the Foundation for Child Development, explores the experiences of young children growing up in Mexican immigrant households in Ohio and New Jersey. The project documents the ways variations in legal status within families and settlement patterns in new destination sites impact the lives of children.
Recent Posts by Joanna Dreby
In this video, Joanna Dreby gives a talk on immigrant children and families.