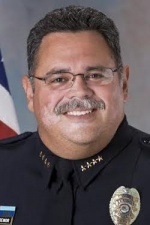 Roberto A. Villaseñor, Chief of the Tuscon Police Department, was born and raised in Tucson, Arizona. In October 1980 he joined the Tucson Police Department, holding many different assignments and working his way up the ranks until being appointed Chief of Police in May 2009. He received his undergraduate degree from Park University, and holds a Masters Degree from Northern Arizona University. He also graduated from the FBI National Academy in Quantico, VA, the Senior Management Institute for Police and the FBI National Executives Institute. He is a member of the Major Cities Chiefs organization, the International Association of Chiefs of Police (IACP), the FBI Law Enforcement Executive Development Association (LEEDA) and is the President of the Arizona Association of Chiefs of Police (AACOP). In January 2013 Chief Villaseñor became Treasurer of the Police Executive Research Forum (PERF) and in January 2015 he was appointed to President Obama's Task Force on 21st Century Policing.
Chief Villaseñor oversees a department of nearly 1,300 members, located just 50 miles north of the Mexico Border. Tucson deals daily with the political, criminal, and sociological issues that affect the Southwest border. The Tucson Police Department has been recognized nationally as a leader in innovative law enforcement technology, and Chief Villaseñor is the appointed chairman for the Major Cities Chiefs Technology Committee.
Recent Posts by Roberto A. Villaseñor
Full video and transcript of panel. Powerpoint presentation provided by Roseanna Ander, original moderator, who was not able to be in attendance; "Public Safety and Law Enforcement"; May 29, 2015.