Sherry Ricchiardi
Professor, Indiana University School of Journalism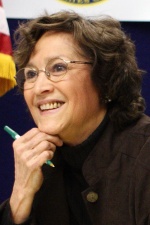 Sherry Ricchiardi is a senior writer specializing in international issues for the American Journalism Review and a professor of journalism at the Indiana University School of Journalism.
Recent Posts by Sherry Ricchiardi
A list of resources that provide best practices, guidelines and expert advice on covering migration.

During my career, I have interviewed dozens of people whose lives have been shattered by trauma. Each time, I agonized over the effect my reporting had on their suffering.

Did my journalistic mission justify probing into their private pain? Did I push too hard for details? Was I properly respectful and empathetic? Did anything positive come of it for them?

The International Journalists' Network compiled resources on recognizing signs of traumatic stress, coping after witnessing violence, and taking care of colleagues in the field.

Over the years, I have had the good fortune to work with journalists in Colombia, Guatemala and Mexico: countries where the media are under fire for the watchdog role they perform.  I have been awed by their powerful commitment to the profession and to the public they serve despite great personal risk.  I always departed wishing I could do more.