"Behind the Beautiful Forevers": A Conversation with Kate Boo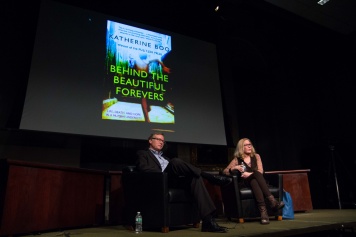 Earlier this month at Columbia Journalism School, Katherine Boo - winner of the Pulitzer Prize, the National Book Award and a MacArthur "genius" grant - joined Dean Steve Coll for a discussion of her first book, the powerful and complex work of immersion reporting, Behind the Beautiful Forevers: Life, Death and Hope in a Mumbai Undercity.
Prompted by questions from Coll and the journalism school audience, Boo offered advice on journalism craft, storytelling and ethics.
Watch the full event video below, and scroll down for useful takeaways from the conversation.
Don't waste too much time trying to label and find names for what you do. Experiment with form. If it's already been done twenty times it's not worth doing again - give your reader something they can't get elsewhere. Address things that are urgent in this world. Make people awake to things that matter most to you. Write in a way that might engage people despite themselves. The best piece of advice I ever got was to "subsidize your readers lack of interest with your surplus." That means don't be angry, don't blame them if they're not interested. Instead, believe that your passion is contagious - that you can spark their interest, too.
My editor told me that if people put this book down, they'd never pick it up again. Don't give readers that option. Give them a person they find believable, in a situation they find believable. Lou Reed said, "You've gotta assume that everybody in the audience is as smart as you are, at least." Assume that readers are sophisticated. They don't always need to be spoonfed. The easiest story to get is the hardest story to tell.
If you have the opportunity, use public records. It's not just going to make clear what the story is - it's going to allow you to tell that story in a much stronger, deeper way.
People are often trying to give themselves control over events they don't have control over at the time. When something traumatic has happened to someone, it is important to interview that person as soon as possible after the event. That's the closest to the truth you're going to get.
You know your subject matter better than anybody - listen to your own ear as you tell these stories. Trust your instincts and constantly ask yourself, "What is the potentially valuable moment here?" I always ask "how do I do justice to what I've seen?" Rather than, "How do I make it readable?"
If you are reporting across boundaries, across difference, that means that you have to put in a different amount of time.
What keeps me going in projects like these is the emotional attachment to the people I'm reporting on. If it hurts your heart, that means you care. That is part of what keeps you in it. 
Katherine Boo is a staff writer at The New Yorker and a former reporter and editor for The Washington Post. She learned to report at the alternative weekly, Washington City Paper, after which she worked as a writer and co-editor of The Washington Monthly magazine. Over the years, her reporting from disadvantaged communities has been awarded a Pulitzer Prize, a MacArthur "Genius" grant, and a National Magazine Award for Feature Writing. Her 2012 book Behind the Beautiful Forevers: Life, Death and Hope in a Mumbai Undercity won nonfiction prizes from PEN, the Los Angeles Times Book Awards, the New York Public Library, and the American Academy of Arts and Letters, as well as the National Book Award for Nonfiction.