Shorenstein Center Examines Ethical Dilemmas of Covering ISIS
July 5, 2016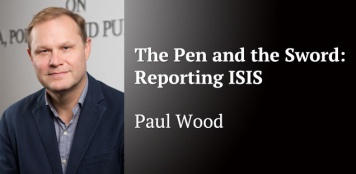 In a new paper for the Shorenstein Center, BBC world affairs correspondent and Shorenstein Fellow, Paul Wood, tells the painful story of one journalist captured by ISIS, and examines the ethical dilemmas that emerge when covering terrorist organizations.
Daniel Rye, a 24 year old freelance photographer from Denmark and the subject of Wood's piece, was just one of 24 Western journalists and aid workers kidnapped and held hostage by ISIS between 2012 and 2014. He was captured on his second day in Syria.
As Wood recounts Rye's story in harrowing detail, he reflects on his own reporting in Syria and raises questions about how the larger journalism community reports on such conflicts:
After witnessing the brutal death of a child, what should be the goal of journalism – to relay an impartial account, or to move the world to act?
What footage is appropriate to broadcast in the wake of an attack?
When must secrets be kept to preserve the lives of those still held hostage? 
What is the balance between sanitizing the atrocities of war – and showing graphic details that may encourage others to join ISIS?
Click to read "The Pen and the Sword: Reporting ISIS", and click below to listen to Wood discuss his work on the Shorenstein Center's Media & Politics podcast: