Dart Hosts Panels on Confronting Gendered Threats and Interview Safety
April 25, 2018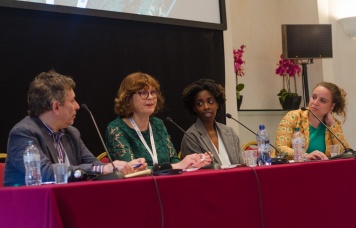 At the International Journalism Festival in Perugia, Italy, the Dart Center hosted panels on dealing with gendered threats, and on interviewing people with a history of violence.
The first panel, featuring journalist and author Susan McKay, New York Times East Africa Bureau Chief Jina Moore, New Yorker Staff Writer Alexis Okeowo and Dart Center Executive Director Bruce Shapiro, explored how women journalists contend with unwanted presumptions, sexual harassment and the threat of gender-based violence.
Watch the full video here:
The second panel, featuring Susan McKay, OCCRP Editor and Co-founder Drew Sullivan and Dart Centre Europe Director Gavin Rees, examined the basic safety approaches and conversational etiquette journalists should deploy when speaking with sources who have a track-record of intimidation and violence. 
Watch the full video here: