Interviewing Kids in Crisis: The News Value Debate
December 17, 2012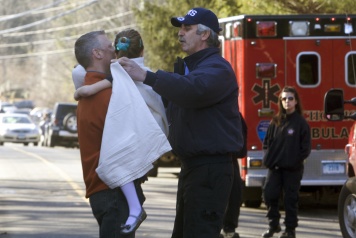 "Simply having a child for the sake of having a child on camera does nothing to advance the story," said Bruce Shapiro, executive director of the Dart Center, in an interview with the Huffington Post's Michael Calderone. "Interviewing a small child whose understanding of death itself is limited, never mind who is confused and scared, can only contribute to the public's misunderstanding and contribute to the real trauma of the child."
Shapiro spoke to several reporters Monday in the aftermath of the Sandy Hook Elementary School shooting. As part of a panel on the the news value of interviewing children on HuffPost Live, Shapiro acknowledged that reporters in Newtown had an "immensely difficult job on Friday" as first responders facing extreme pressure to get something on the air. But, citing a CNN interview in which a reporter put a distraught young girl on the air, he stressed that journalists need to stop and weigh the news value of interviewing children before putting them in front of a camera. If they determine that there is true journalistic purpose in questioning children, Shapiro urges reporters to speak with them off the record, to get permission from parents, and to cross check information to avoid spreading unverified accounts.
Stuart Hughes, a BBC World Affairs Producer and 2012 Ochberg Fellow, also weighs in today on the BBC with a story about the coverage of the shootings and more about how to handle children in crisis. Click here to read.