Understanding Nonviolence in Iran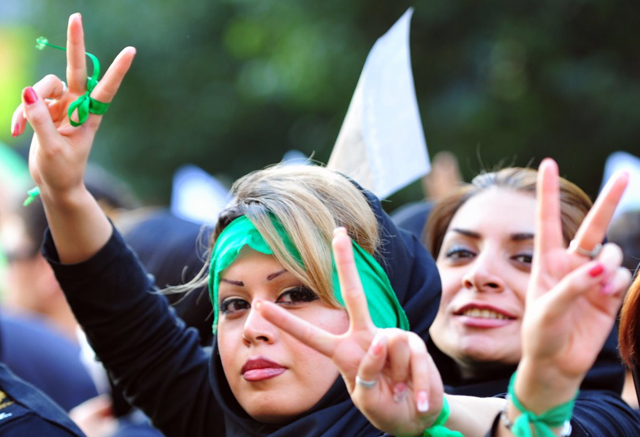 Here at the Dart Center we focus on coverage of violence and its aftermath. Usually that means better understanding the role of emotional injury in the lives of individuals or communities.

But sometimes the story is exactly the opposite: What happens when individuals and communities, whose lives have been thwarted and voices diminished by trauma and fear, find creative ways to assert their rights and aspirations?

That is what is playing out now in the streets of Iran, where for 50 years power has been backed by the violent suppression of dissent — first by the Shah, then by revolutionary theocrats. On the surface these protests are about the credibility of an election. But the extraordinary spectacle of nonviolent defiance — from throngs in the streets to green armbands on World Cup players — suggests something bigger: a desire by many Iranians (especially women and the young) to articulate their political life in terms other than fear of their own government or of rival nations.

For journalists, covering nonviolence can be just as baffling as covering violence itself.  Both challenge our vocabulary, expertise and toolbox.  Both involve understanding the connection between abuses of power — whether between two individuals or at the levels of societies or nations — and steps toward repair.

In particular that seems to me the case with Iran. For political reporters and bloggers looking to give this week's news more than a superficial context, the Iran Human Rights Documentation Center offers a wealth of resources, including powerful background reports on the violent suppression of journalists, bloggers, and regime opponents.  And for fresh insight into this week's protests, the scholarship of Gene Sharp of the Albert Einstein Institute, devoted to helping societies escape cycles of violence, offers journalists essential roadmaps across the challenging terrain  between brutal regimes and nonviolent civil disobedience. Sharp has been quietly studying the aftermath of violent authoritarianism for a half-century, and much of his writing is available freely online.
Photo "3V" by Flickr user Hamed Saber, used under a Creative Commons license.