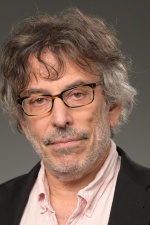 Bruce Shapiro is Executive Director of the Dart Center for Journalism and Trauma, a project of Columbia University Graduate School of Journalism encouraging innovative reporting on violence, conflict and tragedy worldwide. An award-winning reporter on human rights, criminal justice and politics, Shapiro is a contributing editor at The Nation and U.S. correspondent for Late Night Live on the Australian Broadcasting Corporation's Radio National. He is Adjunct Professor and Senior Advisor for Academic Affairs at Columbia, where he teaches journalism ethics. His books include Shaking the Foundations: 200 Years of Investigative Journalism in America and Legal Lynching: The Death Penalty and America's Future. Shapiro is recipient of the International Society for Traumatic Stress Studies Public Advocacy Award for "outstanding and fundamental contributions to the social understanding of trauma." He is a founding board member of the Global Investigative Journalism Network.
Recent Posts by Bruce Shapiro
From Black Lives Matter to #MeToo, many reporters feel emotional distress covering the violence and abuse their communities face. Here are expert tips on how to navigate that stress.

Seamus Kelters, who died suddenly on September 27, 2017, was an influential chronicler of Northern Ireland's civil conflict and co-author of Lost Lives: The Story of the Men, Women and Children Who Died As A Result of the Northern Ireland Troubles. An early Dart Center Ochberg Fellow, he played a central role in the evolution of trauma-aware journalism. We asked several friends and colleagues for remembrances of Seamus and his work. Below, reflections and recollections by Susan McKay, Scott North, Donna DeCesare, Frank Ochberg, Joe Hight, Elana Newman, Gavin Rees and Bruce Shapiro. Scroll down for excerpts, and click to the right to read the full pieces.

At its best, honest and rigorous reporting is a powerful antidote to violence, and stands as a bulwark against scapegoating, terrorism, racism and bullying. But reporters need your help to get these stories right.

In coming to terms with this election, journalists must examine the failure of our reporting to seriously account for the single feature of the Trump operation distinguishing it most profoundly from any modern U.S. presidential campaign: The tactical embrace of violence.