Violence Against Children Reaches Alarming Rates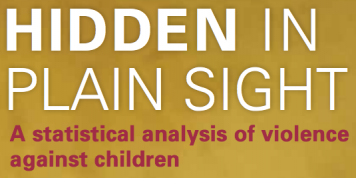 Approximately one billion children worldwide are subjected to regular physical abuse, according to a staggering new study released by UNICEF last week. According to the organization, the 206-page study, entitled "Hidden In Plain Sight," is the "largest-ever compilation of data on violence against children."
The report draws on data from 190 countries, mostly during peacetime. But that had seemingly no impact on the alarming levels of violence children around the world face today. In 2012, one in five homicide victims were children or adolescents under the age of 20. Almost one fourth of all girls age 15-19 reported being the victim of some form of physical abuse. And about one in ten girls under 20, or approximately 120 million girls, reported having been raped or sexually assaulted.
"Unless we confront the reality each infuriating statistic represents -- the life of a child whose right to a safe, protected childhood has been violated -- we will never change the mindset that violence against children is normal and permissible," said UNICEF executive director Anthony Lake. "It is neither."
Sexual violence against children has far-reaching consequences, the study warned, potentially hindering all aspects of their physical, social and psychological development.
The Dart Center has a host of resources on covering violence against children.