Ariel Ritchin
Senior Producer, Content & Programs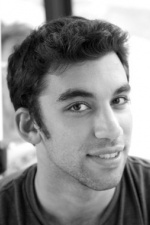 Ariel Ritchin is the Senior Producer for the Dart Center, where he directs and oversees all editorial content and leads strategic and digital initiatives for Dart Centre Europe, Dart Centre Asia Pacific and the Dart Center in the United States. He is a multimedia journalist whose audio and video work has appeared on Life of the Law, NBC News and PBS Newshour, among others. He has previously worked in the multimedia department at the ACLU and as a video editor for Lucky Tiger Productions. Ariel is a Humanity in Action Senior Fellow and a Posse Foundation Scholar. He holds an M.S. from Columbia University's Graduate School of Journalism and a B.A. from Middlebury College. 
Recent Posts by Ariel Ritchin
Robert Nickelsberg has been photographing in Afghanistan since 1988. When he returned to Kabul this fall, he thought of a new way to cover the complexity of the conflict, focusing on those left behind: war widows. "This is really what all those deaths add up to," he said. "The challenge for a country to take care of its people." A Dart Center Q&A.

Beth Macy's first book, "Factory Man," tells the story of John Bassett III, a third generation factory owner who battles to keep his Galax, Virginia, furniture factory open while everyone around him has closed up shop. "I put myself in the book is because I thought I owed the reader that transparency," she said. "Because these are my people." A Dart Center Q&A.

Over the last three weeks, a pair of powerful earthquakes shook Nepal, resulting in the deaths of more than 8,000 people. The Dart Center spoke with journalists Russell Lewis and Amantha Perera, and clinician Patrice Keats, about the challenges of covering this tragedy, including verifying information in a time of emergency, speaking with families of missing people, and working through the personal challenges of covering trauma.

In October, the Dart Center hosted a three-day conference to deepen journalists' reporting on Cuba and Cuban-American relations featuring historians, scholars, economists, policymakers and award-winning journalists. Click here for full video coverage.