Impunity in Mexico: Remembering Javier Valdez
One month after Mexican journalist Javier Valdez was assassinated outside his workplace, we asked seven journalists to reflect on his murder and the impact of violence and impunity on their work. Below, Donna DeCesare introduces pieces by Melissa del Bosque, Javier Garza, Michel Marizco, Maria Teresa Ronderos, Christopher Sherman and ​Marcela Turati. Scroll down for excerpts, and click to the right to read the full pieces.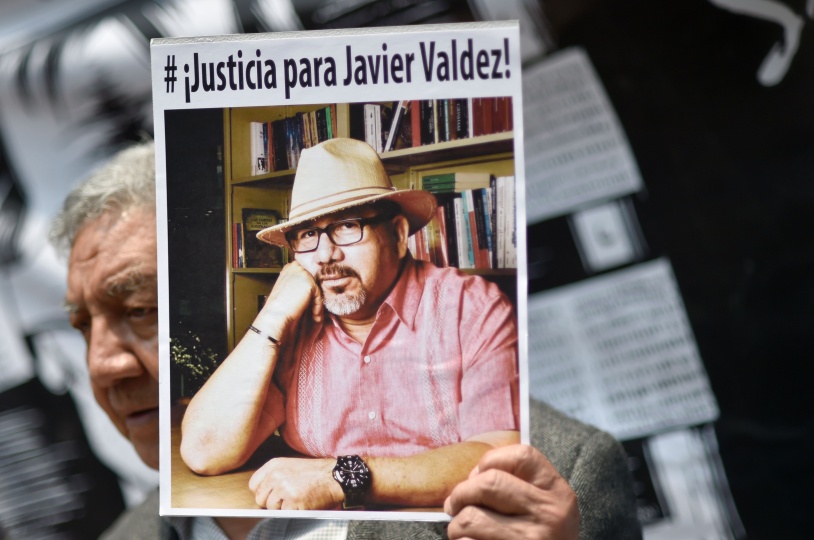 It's been nearly two years since the Dart Center published an interview I did with our Mexican colleagues Marcela Turati and Javier Garza about the murder of Mexican photojournalist Ruben Espinosa. At the time, Ruben's death marked an ominous turning point for Mexican reporters. He was the first journalist murdered in Mexico City in more than 20 years. Colleagues were especially worried about how his death would impact regional journalists who, up until then, believed that Mexico City offered reliable safe haven when they faced death threats in their regions.
Despite the intensified calls to end impunity and to protect the Press after Ruben's murder, the situation for Mexican journalists has declined sharply. In 2016 Mexico experienced the highest number of journalist murders of any country outside a conflict zone. Only Syria and Iraq proved to be more deadly. And in the fifth month of 2017, after a series of especially brazen and devastating murders taking the lives of journalists Maximino Rodríguez, Miroslava Breach, Cecilio Pineda and Elidio Ramos, our colleagues in Mexico lost one of their country's pre-eminent journalistic voices.
On this day a month ago, Javier Valdez, who won many international awards including a Maria Moors Cabot Award and CPJ's International Press Freedom Award, was targeted and killed by assassins in broad daylight on the streets of his hometown. The silencing of one of Mexico's most uncompromising and eloquent chroniclers of the ravages of the Drug War leaves a large hole in the heart of the entire journalistic community.    
I met Javier Valdez in Mexico City at a conference on press coverage of drug trafficking. His work and reputation were already established by then, but fame had not gone to his head. I found him to be utterly engaging and disarmingly generous.  On impulse, reacting to my photographic presentation about Central American gangs, Javier invited me to visit Sinaloa to photograph the world he reported on. Regrettably I never managed to make that visit. But I did discover the world of Culiacan in the passionate and poetic Malayerba Chronicles – some of which are translated into English by Patrick Timmons here – that Javier wrote for the scrappy newspaper he co-founded, Rio Doce, as well as in his many published books. His work greatly deepened my knowledge. Indeed it should be required reading for anyone who wishes to understand contemporary Mexico. 
For the younger generations of Mexican journalists, he was a beloved mentor whose footsteps they were most eager to follow. His shoes may now seem both impossibly large and perilous to fill. As they mourn Javier Valdez, reporters are asking themselves how they can best honor him and continue their journalism.
The initiative #ourvoiceisourstrength led by a group of U.S. advocates and Mexican reporters aims to focus international attention on the gravity of the attacks on Mexico's press. Their first action launches today with the en masse publication of one-month anniversary reflections on Javier Valdez's murder. As part of the Dart Center's support of this effort, we invited several of our Ochberg fellows and Dart Award winners who cover or are based in Mexico – Marcela Turati, Chris Sherman, Michel Marizco, Melissa del Bosque and Javier Garza – as well as one of Latin America's leading journalists and proponents of press freedom, Maria Teresa Ronderos, to share their reflections about the impact of Javier Valdez's life, his work and his murder, as well as steps that can be taken to strengthen and support Mexican journalists and journalism.
At the Dart Center, we are dedicated to the emotional wellbeing of our colleagues and to the mission of press freedom everywhere. By joining with #ourvoiceisourstrength, we commit to deepened international solidarity in the struggle against impunity. Please read Javier's writings and the messages from our colleagues. Please spread the word and join these and other solidarity efforts. While journalists in the U.S. enjoy greater protections than their colleagues in Mexico, there are signs that these may be more fragile than many of us assume. Attacks on press freedom, wherever they occur, impact us all. They must be resisted. It is no time for silence.
MARCELA TURATI, CO-FOUNDER, PERIODISTAS DE A PIE
Javier was one of our most revered and beloved. He was like a big brother, a mentor who taught many of us how to cover drug trafficking. He was a generous and responsible guide to all the national and international investigative journalists who came to report on his native Sinaloa, the dangerous place notoriously known as the home of "El Chapo" and the cartel he led. We thought Javier was untouchable; of course we were wrong. His death sent shockwaves of terror through our community of journalists. 
CHRISTOPHER SHERMAN, MEXICO CORRESPONDENT, ASSOCIATED PRESS
Javier Valdez occupied a different stratum than most journalists in Mexico. I never met Javier, but I knew his reputation. Independent voices in Mexican journalism stand out and his was unmistakably one of them. For Mexican journalists, it takes more than fluid prose, good sources and a platform. It requires a daily, even minute-by-minute, word-by-word calculation of the risks and the public's need to know. 
Read Christopher's piece here.
MICHEL MARIZCO, SENIOR EDITOR, KJZZ FRONTERAS DESK
Valdez taught me the nuance of reporting in that beautiful, savage Pacific coast city: how in a place like Culiacán, you can't rely on press briefings, open source information and records laws. How a recorder could be perceived as a weapon and how a notebook should appear and disappear, never hovering too long. ​
MELISSA DEL BOSQUE, INVESTIGATIVE REPORTER, THE TEXAS OBSERVER
We in the United States have more in common with our colleagues in Mexico than we'd like to believe. Our president calls us an "enemy of the people" for reporting the truth. A growing authoritarianism and corruption threaten our freedom of expression and our democracy, too. The death of a colleague in Mexico is a mortal wound to us all. What can we do?
Javier believed in "safety in numbers" – that pushing other news organizations to replicate or follow up on the delicate stories Rio Doce published meant that information could travel far and wide. That, to him, made publishing worth the risk and also provided another layer of safety. Something else was probably also on his mind: That sharing a story creates a bond of solidarity between journalists. By helping to amplify the news, those who aren't in danger help those who are, and that same favor may be returned one day.
MARIA TERESA RONDEROS, DIRECTOR, OPEN SOCIETY PROGRAM ON INDEPENDENT JOURNALISM
The more journalists from the mainstream media in Mexico and in neighboring countries join these brave pioneers, the safer everyone will be. A shared editor will help to make the stories better; publishing each identical story simultaneously in hundreds of different outlets will make them unbeatable. Journalists telling truths and using their multiple platforms to shout them with one voice: nothing could be more effective against those who want them silenced. This would be the best homage to Javier Valdez. Avenge his death with good journalism and solidarity, the two things he did best.