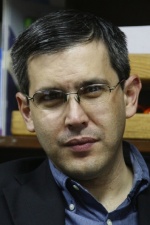 Javier Garza is a journalist based in Torreón, Mexico. He is the news editor at Imagen Laguna and a consultant on journalist protection at the World Association of Newspapers, and is a member of the board of Article19's Mexico and Central America Office. As editorial director of El Siglo de Torreón he developed safety protocols for covering a wave of violence unleashed by organized crime groups in the city, which included armed attacks and kidnappings against the newspaper. He is recipient of the Dart Ochberg fellowship. In 2014-15 he was a Knight Fellow at the International Center for Journalists focused on digital security and documenting attacks against the press in Mexico. Garza has a bachelor's degree in communications from the Universidad Iberoamericana and a master's in journalism from the University of Texas at Austin. He has lectured on violence against the media at universities and press organizations in Mexico, the United States, Europe and South America and serves as an adviser on Newsroom Safety at the World Association of Newspapers (WAN-IFRA).
Recent Posts by Javier Garza
Los periodistas se han vuelto objetivos cada vez más frecuentes de campañas de odio y abuso cibernético orquestado. El acoso en línea es un problema grave para la sociedad porque su propósito es silenciar a los periodistas. Y también tiene un marcado impacto en la salud mental y emocional de los afectados.

Freelance foreign correspondent Alex Duval-Smith, Knight International Journalism Fellow Javier Garza, Radio France International reporter and producer Imogen Lamb, Reveal investigative reporter Aaron Glantz and ABC foreign correspondent Sally Sara share their experiences as Dart Center Ochberg Fellows. Click here to apply now!